"Parker you are kind of a douchebag, but I think I like it. Even better? I like that you're the one throwing up right now and not me."
I laughed as I looked over at Parker Myers burping next to me in the Uber. Then I looked up to see whether the driver was getting ready to kick us out. But he, too, was cracking up as he reached for a barf bag to pass back to me.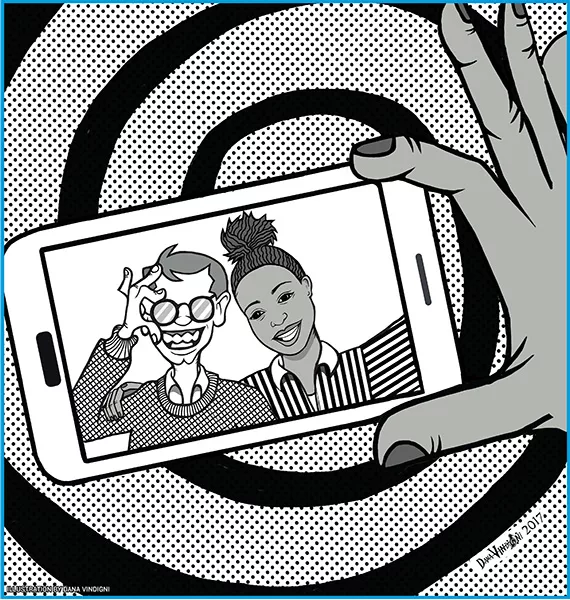 Illustration of Parker and Aerin by Dana Vindigni.
Let's rewind.
About a week ago *insert YouTube video of what will probably be Bobby Shmurda's one-hit wonder* my editors, Mark Kemp and Ryan Pitkin, informed me that they wanted me to link up with the infamous Parker Myers. Don't know who that is? Neither did I. Apparently, Parker used to write about nightlife for Creative Loafing, and his column was fairly popular.
The thing is, Parker is locked in an '80s and '90s timewarp. It's not that he's dead. He's just kind of. . . well, he isn't exactly real. He was a parody and a composite of at least two writers whose pseudonym was a play on Myers Park (touché!).
I was stoked. So I did my homework. This is how CL described him back in the day: "Parker Myers is a real social animal. Here's a guy who knows the Charlotte social agenda like it was written on the back of his BMW owner's manual. . ."
I sighed, looked at the caricature of him wearing glasses, high waters and a UNC sweatshirt while holding a beer. Typical. Then I read about his adventures as a recently divorced single guy exploring local bars with his friend Craven Hempstead. That's when I got the tell-tale sign of the type of guy Parker was: "Some gentleman [Craven Hempstead] was – the rascal didn't even have on Topsiders."
Separated by time, space, class, race and well, style, I knew exactly what our first encounter would look like.
I decided to meet Parker at Draught, one of my favorite brunch spots, so we could get an early start. It's an upscale sports and craft beer bar that usually blasts hip-hop music while bargoers are encouraged to make their own mimosas and Bloody Marys. I knew upholding the stereotype of being late wouldn't be an option with this UNC frat guy, so I showed up a bit early, requested a table for two and wondered if I would recognize him when he walked through the door.
Just as I was about to pull out the caricature sketch of Parker, a white guy wearing high water khakis, a polo and Topsiders stepped through the door. Yep, he was the poster child for either Selwyn Pub or Montford.
"Parker?" I asked as he strolled past the receptionist.
"Aerin?" he responded.
"You got it bud!" Why the hell did I feel the need to say "bud" and why did it roll off my tongue so casually?
He sat down, stuck one finger in the air, and a confused waitress traipsed over to the table.
"Did you need something sir?" the waitress asked, puzzled at his laissez-faire approach to getting someone's attention.
He didn't even lift his gaze to order. "I'll take a Bloody Mary. Make it a double, honey."
I awkwardly watched the exchange and smiled weakly at the waitress as she turned to go put his order in.
He turned to me: "So what are we doing today, hun? Can I call you 'hun'?"
There we were, a hip-hop loving black girl wearing Doc Martens, jeans, a tee and a leather harness, and a white guy dressed like he was itching to buy a keg and recreate Project X. Boy, were we a sight to see!
Despite his dress code and demeanor, I silently told myself, "You went to Duke, you know all about the frat-star life, and you can do this. All you need is a few mimosas and you'll be good to go!"

Parker Myers back in the day
"Ha! C'mon now Parker," I said. "Surely you did your research on feminism in 2017 before making your trip to the future. 'Hun,' along with 'shag,' are no longer on the menu when you're trying to get it in with the ladies. While we're on the subject, 'super' and, no offense, Topsiders aren't really a thing anymore either."
He looked at me and smiled, but I knew his line of thinking was right in line with mine as he stared back at me. Fortunately, the waitress returned with our drinks. I gave him the rundown on the venue, pointing out the industrial décor, showing him the downstairs event space and highlighting that this is a popular spot for watching sports in Charlotte.
Oops, I should've left sports out of the conversation.
"Go Heels!" he shouted as he showed his class ring.
"I should've mentioned that I'm a Duke grad." I responded.
"You went to Duke? Interesting. . . Well, Dean Smith will go down in history."
"To each his own. I'll let you have it. UNC just won this year's NCAA Championship."
A grin appeared on his face, and even though we were clearly a Tinder match gone wrong, I could tell he was enjoying the idea of becoming my frenemy as Biggie Smalls came on and we both started singing, "I love it when you call me big POPPA! Throw your hands in the air, if you'se a true player..."
I breathed a sigh of relief: "At least you know a lil' sum'n sum'n about hip-hop," told him. "I was nervous."
He laughed as he finished the chorus: "If you got a gun up in your waist, please don't shoot up the place, 'cause I see some ladies tonight who should be having my baby, bay-bee!"
You never get used to seeing a white guy in khakis rapping all the lyrics to old-school hip-hop. This was going to be interesting, to say the least.
Over Mimosas and Bloody Marys, we talked about how the nightlife scene has changed since he was "picking up hot chicks" at hole-in-the-wall bars after his wife, Peaches, left him and took his Beemer. I filled him in on the dating scene and how almost everyone is on Tinder, works at a bank and loves brunch, craft beer and tapas. While I could tell he was confused about the meaning of "tapas" and "craft beer," he was only interested in one thing that was unknown to him: Tinder.
I explained that Tinder is a dating app used to match users, giving the account holder the option of swiping right if they were interested and left if they weren't. He had no idea what I was talking about. When I pulled out my iPhone to download the app, he looked frightened. He'd never seen a cell phone that weighed less five pounds, let alone a smartphone.
Yeah, this was going to be fun. I set up a Tinder profile for Parker and laughed as he set out on meeting a "hot blonde" at our next stop, Lucky's Bar and Arcade.
When I summoned our Uber, I knew he'd have 100 questions. He grilled the Uber driver on how everything worked as soon as we piled in. After taking a break to ask how his Tinder was doing, he started delving into his divorce and how he was more concerned that she'd taken his Beemer and that she even went as far as to take the Carolina sticker off their other car, a Ford Country Squire — whatever that is. Shout out to Peaches for taking out the trash before she left.
We pulled up to Lucky's and Parker's eyes lit up as he saw something I knew he'd recognize: arcade games. I pretty much had to tackle him as he began to run right up to a PAC-MAN machine.
"We have to buy tokens first, Parker. You know you're paying, right?" I was joking, a little. We grabbed some tokens and went straight to the bar. I told him he could have whatever he liked, but he had to add a Nerds rope to it.
Parker may or may not have beaten my PAC-MAN score, but I knew he wouldn't be able to handle my skills on air hockey. Between the multitude of #tbt games he'd seen before and the Nerds rope he was munching on, you would've thought he was Charlie winning a golden ticket.
Just as I was giving him the lowdown on one of my fave spots in the Q.C., I noticed Parker staring at this blonde chick. And just like that, I knew I'd lost his attention. He turned to me with his cheesy grin and before I could say, "Parker, please don't use the 'wanna check out my Carolina ring' line," he was in front of the blonde. He'd already set his ring in front of her and was attempting to pick her up with his other signature line, "Hey baby, want to shag?" then added, "You should find me on Tinder."
I shivered. Those were the worst pickup lines I'd ever heard. And yet, with a tipsy blonde, it seemed to work. *insert my knack for blocking* I walked up to the two, put my arm around him, smiled and said, "I'm sorry, is my boo bothering you? Let me guess, he used the 'wanna shag' pick-up line? And that worked? Trust me, it's not worth it."
She shot me a look of confusion as she compared the two of us and said, "Nice meeting you Parker?" I thought he would be offended that I interrupted "the one" hookup that may have been successful, but then, after singing Biggie, he was probably down with the swirl.
He laughed and said, "Oh, someone's jealousss..."
I shook my head, rolled my eyes and searched for a change of subject before things got awkward. I had to break it to him that I wasn't interested.
"Alright ParkeR, I hear you like jazz? The smooth kind? Let's go around the corner to The Imperial. They have live jazz every weekend, an intimate vibe, a comfortable rooftop patio and craft cocktails. Trust me, you'll be toe-tapping in no time."
Without any hesitation, Parker gathered himself as best he could. We'd had quite a bit to drink and I could tell it was starting to weigh on him. We ordered a couple more and listened to the soulful sounds of a local smooth jazz band.
Even though we were the drunkest duo in the room, it was nice to be surrounded by mature, young professionals. Quite frankly, I couldn't believe they even let us in between my boots, his high waters and our belligerent states of mind.
Parker excused himself for quite some time and when he re-emerged I could tell by his paling face that it was time for us to head home. I called an Uber and that's when I shared my excitement with Parker about him being the one who couldn't hold his liquor instead of me while the driver laughed.
The next day Parker was back in the late '80s or early '90s — wherever he lives these days — with a hangover, telling his buddy Craven Hempstead about his strange dream of pocket phones and digital portals that could get a guy laid.
Me, I was kinda missing my frenemy who wore high water khakis and Topsiders and called me "hon."