Photo illustration by Dana Vindigni
Aerin Spruill is 'Being Mary Jane'
Let's be honest, the dating scene and the meaning of love is different since our parents and grandparents were young whippersnappers.
Facebook and dating apps weren't around, computers may not have even existed (certainly not cellphones), marrying young and having children was normal, sex before marriage may have been taboo (depending on whether or not you were a hippie), and the list goes on. The game has changed and it's arguable whether that change has been for the better or worse.
On the one hand, women feel more comfortable exercising their agency. On the other, there's a general consensus that true commitment has been thrown out the window. In the lead-up to this Valentine's Day, I reached out to some friends to get a sense of the dating problems faced by my fellow Charlotte (mostly) millennials, who in some cases are ... well, rightfully pissed off.
"She told me today she wants to 'make sure I'm the one.' What the fucking fuck?! It's been four and half years. She doesn't know what it means to sacrifice everything and sacrifice daily for the person you love. She doesn't know how to show love without being in love. She doesn't know how to fall back in love. All she cares about is her fucking self. And you know what's really annoying? After all this time, I have nothing but memories, just memories. I will get no credit for helping, for shaping or for loving. Instead, some other bitch will reap all the hard work I've put in and get ALL the credit. Ain't that some bullshit?"
– Text received at 2 a.m.
"What's missing? Commitment *insert crying laughing cat emoji*."
– CN, 32
"I love hard. Period. I love deeply. Period. I know what I want, and I don't play games, which has made being a single, twenty-something, young professional in a new city very difficult. I haven't been in a real relationship in YEARS. But that's not the problem. The real problem is, I have not wanted to be in a relationship with any of the guys I have dated over the past few years, except for one. They all show me very early on that they just cannot keep up. As Bey would say, 'I'm just too much for them!'
"At this point, my dating life is limited to those guys I meet on dating apps that are cute enough to swipe right on and smart enough to hold a text conversation long enough for me to accept an actual date. I don't think I am being picky, but I am sure some would say otherwise. Bottom line, my love life has been non-existent, and until a non-fuckboy enters the picture I am okay with that."
– NL, 27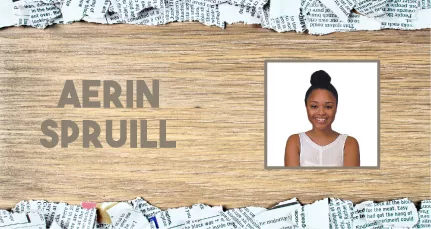 Recently, I re-watched three seasons of a show my mom and I had become obsessed with back in 2013. Being Mary Jane — created by Mara Brock Akil, whose name you may remember if you watched The Jamie Foxx Show, Moesha or Girlfriends ­— is a BET series based on the life and love of Mary Jane Paul (MJP), a thirty-something, successful news anchor living in Atlanta.
For those of you who haven't watched the show yet – SPOILER ALERT! From the outset, viewers understand that while MJP seems to have a grasp on her professional life, her personal life isn't where she wants it to be. Many have identified with her experiences as she struggles to find The One, while also balancing a cut-throat career and family drama.
Season One kicks off with a bang when MJP is lying next to a very attractive gentleman and asking God to give her a sign as to whether or not he's The One. He suddenly wakes up and proceeds to vomit all over her. As if that isn't already a nightmare red flag, soon after helping him to the bathroom, she discovers a wedding band while picking up his clothes! And that's just the beginning of the drama that ensues in her personal life.
Over the course of the next two seasons, we find out her best friend performed fellatio on the love of her life — whose sperm she stole and froze after a one-night stand — after which she gets in a car wreck, she finds out she can't get pregnant after undergoing fertility treatment on national television, her best friend commits suicide, she's forced to take care of family debts and health care bills, and she shares seemingly promising moments with a few men who don't end up satisfying her "standards" of love. In the end, MJP always seems to get the short end of the stick.
I have a few friends who can relate...
"He's like, 'Hey.'
"I'm like, 'Hey.'
"He's like, 'How are you?'
"I'm like, 'Look I've had a crush on you for a while. Let's go on a date.'
"And he's like, 'Great, how about tomorrow?' Babe, we go see Moonlight.
"LIKE, WHAT DUDE IS LIKE, 'LET'S SEE MOONLIGHT'!? And he had already seen it. Man after my own damn heart.
"Then we go to the wine bar by my house and hang out and talk and next thing I know, BAM, we are tonguing each other down. Like, cannot keep our hands off each other. We go back to my place and continue but don't have sex. He says he wants to see me again. SHIT IS PERFECT!
"It's the holidays, so he's out of town for like a while. So I don't see him but we are texting, cool. So he's back and I'm like, 'When can we get together?' And then he tries to come over and chill a few times but my homegirl was staying with me so he like couldn't really. But also our texting is very sexual. Which I think nothing of because as you know I'm a sexual person. And I say, "Hey, yeah I'm like tryna (insert action word for have sex) with you but I also like you, I don't just want sex. Anyway, my homegirl is finally gone and I'm like, 'Hey, let's kick it.' And he's out of town again, so I'm like, 'Cool, when you get back.'
"And he hits me with: He doesn't just want a sexual relationship and thinks we should just be friends..."
– HC, 26
I sympathized, no empathized, with Mary Jane, because I, too, was familiar with getting the short end of the stick. A few years ago, I was in an on-again off-again relationship. Even though the majority of our relationship overlapped with the turbulent years of undergraduate life, I thought I was doing everything right. True, I got drunk and purged way too often, damaged property and even fell into depression, but I was a great girlfriend.
Six or so years later, I found out via social media that person was in a new relationship. And after ignoring all the signs that we should part ways anyways, my version of happily-ever-after was shattered. In the words of the anonymous friend who texted me at 2 a.m., "Ain't that a b*tch?" Nevertheless, I learned from the experience, I've moved on and all that jazz.
Still, discontent with the dating scene followed me to the Queen City. I thought my inability to connect with someone was simply a "I'm a single woman, hear me roar, I'm going to eat all of you and keep it moving" attitude, until I started writing about nightlife and discovered that many singles in the city were singing the same tune: dating in Charlotte sucks. My friends, my coworkers and strangers have expressed frustration with dating in the city. They've tried all the dating apps, gone on all the dates and yet still feel unfulfilled.
"I have gone on many Tinder/Bumble dates. I have gone on some that were fantastic, but we decided that we are better friends than dates. With this in mind, I have found that this is a great way to make friends. I have also had boyfriends come out of Tinder or Bumble, including my last two exes. This means to me that there are gems and great guys out there, and my relationships with these guys have lasted more than six months. I consider this to be a long time in today's dating world.
"[But] just like I have had great dates and made great friends, there have been some serious disasters. The Netflix-and-Chill mentality is out there and there's also the mentality where guys have expectations just because they bought you dinner or bought you a drink during your date."
– SN, 26 (Shout-out to her most recent dating disaster, who compared paying for her dinner to the sex he was going to buy on his next trip, then threw her card at her when she tried to pay. Oh, and still asked for a kiss when she tried to leave.)
Aerin Spruill and just another Mary Jane
The more discussions I've had with people who feel like their dating lives are a series of Punk'd episodes, the more I realize that we're all Mary Jane. While Being Mary Jane has brought and continues to bring critical conversations surrounding race, the glass ceiling, the cyclical nature of family issues and black love to the forefront, at its core the show reveals the complexities of dating, relationships and finding true love.
Mary Jane could be any one of us — black, brown, white, gay, straight, transgender. The name Mary Jane Paul, in and of itself, is basic. At its mention, unless you've watched the show, you have no idea what MJP looks like or what she's been through.
Since college, I've been surrounded by perfect examples of Mary Jane Paul: great people who can't seem to find the love they've been searching for. In a world where therapy, break-ups, anxiety prescriptions, suicide and love deferred are commonplace, I challenged my friends, co-workers and family to tell me, in their own words, what life is like being a real Mary Jane.
"For me personally, 'cause Mary Jane is not me...she is [a] hoe. It's hard dating as you get older. Slim pickings, baggage, no job, records, bad credit...Not to mention you've become set in your ways, not wanting to give. In a relationship, it's about balance, give and take. Every argument isn't worth a response, which is hard for me because I have to have the last say. *insert smiley face emoji* But I'm working on it.
"A lot of people are coming with game, not being genuine. But you need to have good morals and values. If not, you will settle for any and everything. Love yourself."
A few seconds later, I receive a second text: "I guess in a way...I am similar to Mary Jane...without the slut part. Still looking or maybe hoping for marriage at 40 years old."
– SL, 46
From the outset of my newest relationship it's been my goal to maintain transparency and open lines of communication. I don't shy away from sharing my goals for "our" future or keeping it real when something ain't right.
I hate to say it, but social media and phone use are always going to be interesting topics of conversation for those dating. Are you on your phone more than you're engaged in conversation with your significant other? Are you opting for nonstop convo on Tinder instead of face-to-face interaction?
As technology continues to advance, how will the landscape of love change?
"I feel that everyone is missing from the dating scene. Men and WOMEN. We're all missing the point. I'm not going to bash one gender when, as a woman, I do the similar wrong things. Have you 'ghosted' someone? Never returned a text or call? High expectations when you don't have it ALL together? I'm guilty of it. We all want instant gratification. Technology, society and culture."
– PL, 27
This isn't just a conversation for the ladies, either; men are grappling with the challenges of dating and relationships as well, especially with regards to the role that technology plays:
"As a single 'real' man (who hasn't watched BMJ since I was in a relationship), I'd have to agree with PL that both genders are at fault. The main factor that I see (from my experience and others) is that people can't put down their smart phones long enough to build a real connection. We're too distracted with social media and dating apps to build real person to person chemistry.
The fact that you can 'meet' people so easily in the virtual realm makes it difficult when you actually see them in person; there's awkward silences or people aren't who they portray themselves to be online. And the fact that there are all kinds of dudes in your DMs and guys can go on Tender or POF (not me, btw, lol) and find options so easily, we take each other for granted and are quick to look elsewhere very quickly."
– WJ, 33
"I just want to meet a guy who is not racist or sexist and wants to cook together and hang out and do cool shit and smoke a few blunts. I'm not looking to trap anyone. I just want to go with the flow and have a good time. And if it turns into a long-term committed thing, cool. But that hasn't happened for me. I've never had a smooth normal relationship without its shit. And I'm like damn, do they even exist?"
– HC, 26
Being Mary Jane isn't the first and certainly, won't be the last television series or platform for discussing matters of love unfulfilled. There are more and more examples of the diversity of love, learning to love oneself and other series of unfortunate love events on television and in our lives.
What are your thoughts on being a Mary Jane in the Queen City?
Share it with me at [email protected].
*Names in this article have been left anonymous to protect the identities of those mentioned.