It's a hot Thursday and I am standing in a huge space decked out with aluminum stools, leather couches and recycled crates. It is the epitome of Southern charm in a nightlife venue. "This place is for leisure seekers," says Nicole Miller, Marketing and Events Sales Manager for Piedmont Social House, a new entertainment and event space in Ayrsley.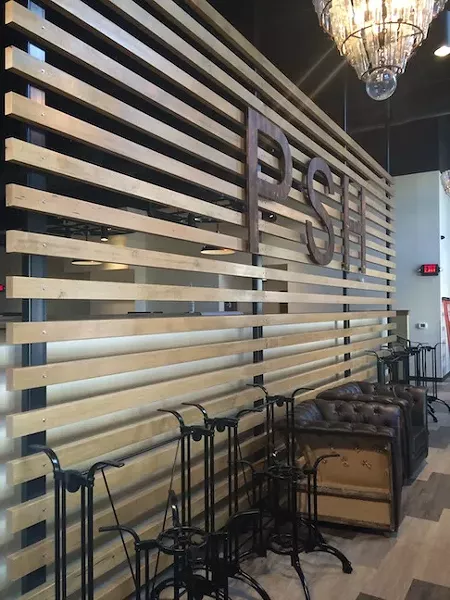 About a month ago, I was alerted about a new QC hangout, which goes by PSH for short — sounds like a cool ending to a handshake — but my inbox got so crowded that I didn't end up seeing it until last week. I know, terrible. But Nicole was super chill about it and excited about giving me a tour, so I couldn't cancel even though I was beyond exhausted from the usual weeks of working a 9-to-5, bringing work home, dating, nightlife meetings and the occasional after-work drink, or three.
Needless to say, the work day dragged on and I anticipated having to be social yet again. While at lunch I decided to pick up a few copies of Creative Loafing — so I could stalk myself, of course. I ended up getting ink all over my white tank, so I turned it inside out. No big deal, except the strings that are there to help you hang a tank, and its two tags, were dangling about. I planned on cutting them, but decided I would put Nicole to the test — was she going to stare at the top the whole time or carry on as if life was normal? (Spoiler alert: She carried on as normal because she's the ish — or psh?).
After a quick meeting at work that turned into a game of beer pong, I was on my way to the Southside of Charlotte — and, of course, I was running late. I pulled up to a familiar shopping center — one where I had gone to the cinema while living on that side of town.
I was surprised to see that PSH was nestled right beside Saffron Indian Cuisine and across from Portofino's. Thinking back to Nicole's initial email I thought to myself, "There's no way there are 12 bowling lanes in here." With my hair all over my head from riding with the windows down, wearing a shirt that was inside out and about 10 minutes behind schedule, I stepped inside the building and was immediately drawn in.
Influenced by another social house in Nashville, Tennessee, the goal is for Piedmont Social House to become a social hub for all of Charlotte, and as the name suggests, the Piedmont. The two-story space has a warehouse appearance with an upscale Southern feel. The most notable: large wooden letters "PSH" over wooden planks illuminated with a large chandelier as soon as you walk in. Nicole was nothing less than welcoming. As we toured, we chatted about career choices and, of course, I had to talk about partying a little bit. (I may have to make her grab a few with me so she can really get a taste of this nightlife thing.)
Get this, PSH boasts over 23,000 square feet! And that's just on the inside. Outside, the patio — which will have its own bar, live music, a fire pit and cornhole — is an additional 3,000 square feet. That's more than enough space to possibly not run into an ex that finds their way there on the same night as you. Okay now the good stuff: entertainment. Inside you will find dart boards, foosball, arcade games, more than 40 televisions, pool tables, billiard tables, shuffleboard and most importantly, 12 lanes of bowling that operate off of a top-of-the-line system. (Sidenote: I really suck at bowling, but this setup makes me want to give it a good ole adult try.)
The great stuff: A full menu centered around fried chicken. Must I say anything else?! The best stuff: There will be 24 tap lines that will feature local beer for your drinking pleasure and, of course, cocktails galore! Parents, no need to leave the kids at home every time you want to relax after work, PSH is kid-friendly until 9 p.m. Oh and you can bring your furry children, too!
All I kept saying as we walked around was, "Nicole I can't wait!" The only thing I can think of that is even close to similar to what PSH in the Charlotte area is Dave & Buster's and this is a completely different caliber of social experience. I just wish they had been open in time for me to reserve one of the event spaces or the back 6 lanes, this place would have taken my 25th birthday up a notch! #bossmoves
Ready to get your bowl or drink on? The grand opening is the week of June 22. Trust me, you won't want to miss this!
(I'm Coming! (yes, that's what she said...) spotlights new nightlife spots around the Queen City.)