Label night club at the N.C. Music Factory has been trending in Charlotte since the doors opened in
October. Particularly so, since the other hip dance club nearby, Butter, recently closed its doors. I finally
seized free time to make a visit last Saturday night and aim to report my experience here... at least, what I recall of said experience. I believe I retained the important stuff.
The charming Nick Spain, managing partner and snazzy dresser, gave me the grand tour and explained the present state and future plans of the hot spot. Label boasts an open set-up and lavish ambiance with some unique amenities to the Charlotte scene. The lights and sounds rival any club I've been to in the country, and Label solicits world class DJ's for their peaks nights. A separate lounge providing a relaxed vibe is located on the backside of the main room. VIP areas are available both in the thick of the action, or removed from the ubiquitous crowd elbows and drink spills on raised platform areas. Patrons who cop for bottle service and VIP treatment have access to their own bar and bartenders, along with scantily clad cocktail servers.
The crowd was eclectic and fancy, and nearly every employee looked like they could be in a bra or boxer brief advertisement. The well-appointed women's restroom alone was worth the cab fee to get there, complete with ample stalls for lady business (FINALLY a drinking establishment that gets it!) and a lounge area with a primping station separate from sinks. We celebrated this by having a toilet runway show: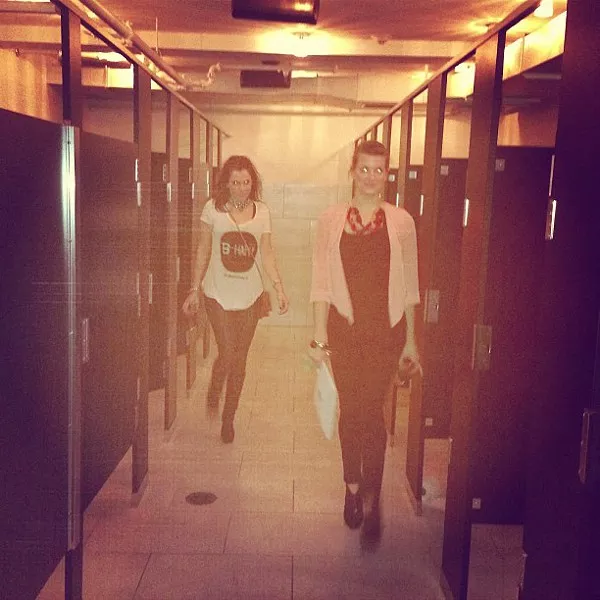 Additions to come include a second level mezzanine for additional VIP tables and lounge space, in order
to open floor space on the lower level for dancing. The outdoor patio, currently under construction will be open in the Spring and will be a phenomenal place to enjoy a drink outside and creep on concerts are the amphitheater.
I woke up the following morning still in leather legging prison, with a violent hangover, a horrifying contusion on my left butt cheek, and no wallet, but I'd say all in all the trip to Label was worth it. It is undoubtedly the kind of night life experience that you can expect to find in larger cities like New York and Las Vegas, right here in our Queen City.
Label Night Club
900 NC Music Factory Blvd, Suite B6
704.910.0526
[email protected] (reservations and VIP tables)