Bzzz. Bzzz. Hear that? While Spring is known to bring the bee and wasp populations out of the shadows (to the delight of, let's see, no one), there's a different kind of buzz hanging in the air now.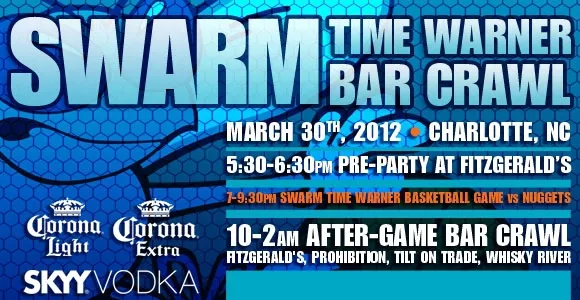 To break it down, the Beelievers are clamoring for Charlotteans to come together and support changing the name of the Charlotte Bobcats back to the Charlotte Hornets. The Swarm Time Warner event takes place this Friday, March 30. The idea is that while the Bobcats play the Denver Nuggets, an entire block of the audience will be decked out in teal and purple, the Hornet's signature colors.
If you want to show your support, buy your tickets and try to get seated in section 223. Participants can keep the party spirit going after the game, with the bar crawl starting at Fitzgerald's and hitting Prohibition, Tilt and Whiskey River. No cover charge for Beelievers.