I recently met a man in Barnes and Noble ... well, not technically. It was completely staged so that we could deny, with clear conscience, the way in which we actually met. We ran into one another, as planned, in the humor/travel section, where he was pretending to read a book about Portugal and I approached him nervously holding a book that I didn't realize consisted of post cards of baby cats that said things like "It's Syphillis." I guess baby animals cushion the blow of news like that? I mean, I get it.
After we had made most of the B&N staff completely uncomfortable with our blatant sexual tension and inappropriate commentary, I made my purchase and the strange man who "never does things like this" asked me to join him for a drink.
Although I live in Huntersville, I very rarely spend time in the Birkdale area unless I'm going to see a movie that I'm embarrassed about viewing (i.e., Breaking Dawn) or need to get in my procrastinatory Christmas shopping on the 23rd of December. However, I will definitely be back to kick it at the little bar that we stumbled upon after our adventure in role play.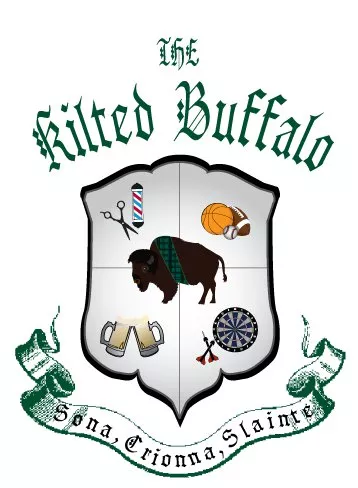 The Kilted Buffalo is the love child of a bar, a men's salon, and an arcade. Intrigued? You should be.
You can go there, get your hair did, have a beer, and then play Pac Man (or beer pong, or that maddening ring toss game, or corn hole, or ladder golf, or darts) to your heart's content. There was a sizable crowd for a Monday night … my hypothesis is that they all showed up for what I like to refer to as The Flip. Allow me to explain. On Mondays, the bartender will flip an oversized coin for you and let you call heads/tails. If you call it correctly, you get your choice of any of their amply decent beers on tap for the wee price of $2.75. If you lose, you get an ice cold Pabst Blue Ribbon for $2.75. Sucka. I lost every time, but Mr. Portugal slid into a lucky streak. Regardless, it's a grand accompaniment to the overall vibe of the bar.
My only complaint upon taking our leave was that the bartender was wearing a bluetooth headset, which is, in my opinion, the epitome of a stupid jackass. I was kindly corrected and informed that it was a particularly shiny pen tucked into his crocheted hat. A guy wearing a crocheted hat AND a bluetooth? I should have known better. So yeah, that means no qualms whatsoever with this establishment. Finding the Kilted Buffalo was such a magical accident; serendipity.
For more information, visit www.thekiltedbuffalo.com.

Megan Henshall is a project coordinator by day, favorite child, rollerskating enthusiast, blogger, and lover of all things social and under appreciated. For more writing/ramblings/rants visit www.dearsuchandso-keyboardventing.blogspot.com.