April Denée describes herself as the type to stop an interesting-looking person on the street and ask them about their story.
It's a trait that no doubt helped her as a freelance journalist. It has now brought her to the unexpected path of writing and directing a feature-length documentary, titled BUSK!; it explores the importance of encouraging street art and performance as a vital part of a city's cultural health and vitality.
Filmmaking may be a new passion of Denée's, but it is starting to take precedence over her other endeavors. "Give me a meager salary — just enough to live on — put a camera in my hand, stick me in a room with my editing suite, and let me be happy. It's that simple," she states with obvious determination.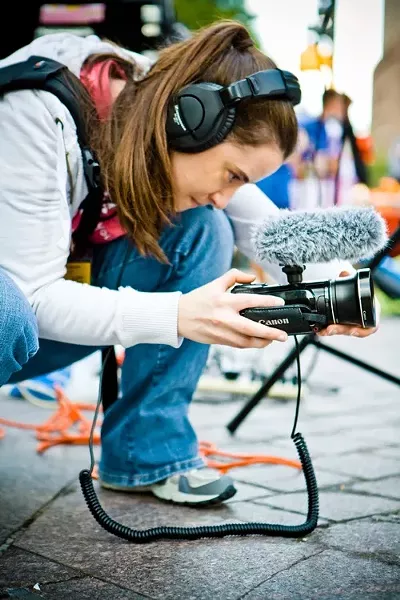 Images courtesy of LunahZon Photography
The BUSK! website describes the project as "…a character-driven documentary about how a small, emerging city can — and should — encourage street art and performance toward its own social, cultural, and economic growth."
Charlotte has a sometimes tenuous relationship with its budding music and arts community. Never more so than when that art or music is presented outdoors, free from galleries or commercially backed and publicly sanctioned amphitheaters and performance centers.
The issue is heating up as of late, with proposed changes to the noise ordinance that left many musicians, small business owners and fans of live music up in arms — taking to Facebook and online petitions to vent their frustration and propose softer revisions. The proposed changes have now been scrapped and the second, revised proposal is still being debated.
Not content to simply make a film, Denée also organized an Uptown busking event called Buskapalooza last week. The idea was to both raise awareness of Charlotte buskers and the ongoing BUSK! fundraising campaign.
A grant from the N.C. Arts Council has covered some of the necessary funding for the project, but supporters of the project can also make donations via the film's IndieGoGo page to help finance the film in time for an expected December premiere here in Charlotte. Rewards are available to funders, with different incentives for various donation levels.
Buskapalooza was intended to be a one-off event, but it now looks like it could become a Charlotte staple. "The event was so successful that, even before it was over, people were asking when we were going to have the next one," says Denée. "I'm already in talks to host another Buskapalooza this summer, so if anyone missed the first event, I hope they can make it to the second. And even if they can't manage that, they'll be able to see Buskapalooza footage on the big screen once the documentary is completed, since the event was documented as part of the film."
While she's clearly excited about the possibility of another Buskapalooza, she hopes Charlotte musicians won't wait around for an excuse to get out there and share their art. She's confident in the likelihood of that outcome, saying, "I can at least say that the buskers who participated in the event last Friday are now more comfortable to go out and busk on their own, having learned about and experienced first-hand the busking-related laws we discussed as part of event preparation and that appear on the backs of their Buskapalooza event badges."
Watch the recently released BUSK! trailer below, and check out those aforementioned busking laws if it moves you to take to the streets with instrument in hand.
BUSK! (documentary trailer) - street art & performance, grassroots creative culture from April Denée on Vimeo.