RubberMADE, Courtney Starrett's current exhibition at the Winthrop University Galleries, is a collection of colorful necklaces, brooches, bracelets and rings that are inspired by the exuberance and optimism of the American consumer in the 1950s and early '60s, but also hint at the discord and disarray to come. Numerous aspects of the show — the materials, the titles, the visual references — are faithful to the era. Made primarily from silicone rubber, many of these pliable, jittery baubles can easily double as sculpture.
Courtney Starrett, "It Doesn't Take an Expert to Grow a Beautiful Garden," 2009 silicone rubber, sterling silver, stainless steel and brass (photo: Zan Maddox)
Most of the pieces are exhibited on custom-made plexi display forms — torsos and hands that are clearly inspired by magazine ads. The forms are slightly smaller than life size, so the jewelry dominates them. But these plexi ladies are so perky that they seem oblivious to the fact that they are almost being consumed by their adornments.
The individual pieces are titled with advertising slogans, with results ranging from the appealing ("It Doesn't Take an Expert to Grow a Beautiful Garden" pairs somewhat innocently with a set of flower rings embedded in a box of Astroturf.) to the ominous. ("The Sociable Choice" is a bracelet that looks like a sea anemone.)
Courtney Starrett, "The Sociable Choice," 2008 silicon rubber and grommets (photo: Zan Maddox)
There are myriad visual sources including spaceships and food, but my personal favorite is the sticky, icky and threatening. The show abounds with tentacled objects that look like the spawn of predatory sea creatures and flowers, creating an alternate world in which smiling women happily attach suspicious life-forms to their bodies.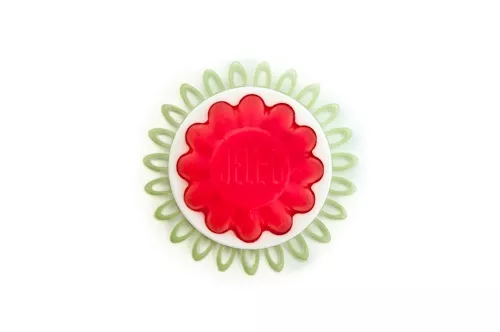 Courtney Starrett, "Strawberry-Kiwi Jello," 2010 silicone rubber and sintered nylon (photo: Zan Maddox)
Complementing the jewelry is a wall installation consisting of vinyl strips with text and silicone flower forms mounted with upholstery tacks and powder-coated washers. Here again, Starrett begins with something conventional — cheery patterned wallpaper — and takes it in a different direction with her three-dimensional sci-fi flowers. Spread across a large expanse of wall in the boxy gallery, it is sprightly and charming. I would love to see this same installation in a more constricted space, where I think it would take on the slightly unnerving tone that Starrett brings to the rest of her work.
Courtney Starrett: RubberMADE is on exhibit at the Elizabeth Dunlap Patrick Gallery, Winthrop University Galleries, Rock Hill S.C., through March 25.