Harris Dimitropoulos' Hecceity (Storrs Gallery, School of Architecture, UNC Charlotte) features nine large digital works made entirely with common tools. Dimitropoulos makes complex works using basic hardware and software as a way to explore his evolving attitude toward digital media.
Harris Dimitropoulos, Caustic Networks. Giclée print on canvas, 42-inch x 42-inch (image courtesy of the artist)
The work falls into two different camps: ink-jet prints on canvas and map-like works on paper.
The seven canvases are aggressive, most with bright, hard colors that resemble automotive finishes. In some, glossy surfaces loop, twist and fracture; in others there is organic rupture and flow. There is a lot of contradictory play with flatness and depth, linear elements, spillage, and reflection, all harnessed into a set of highly disciplined works.
These canvas works are purely digital. Dimitropoulos starts with small sketches, but most of the work is done with 3-D software, Photoshop or other pixel-editing software and a graphics tablet.
The two map pieces are more subtle and intimate. They not only evoke the dreamy emotions one has when poring over maps, but they lack the sleek, cool distance of the canvases. Each 60-inch by 84-inch archival print on paper features a manipulated image of water or earth, over which are superimposed layers of black and white patterns derived from images such as water on a lake or plant structures.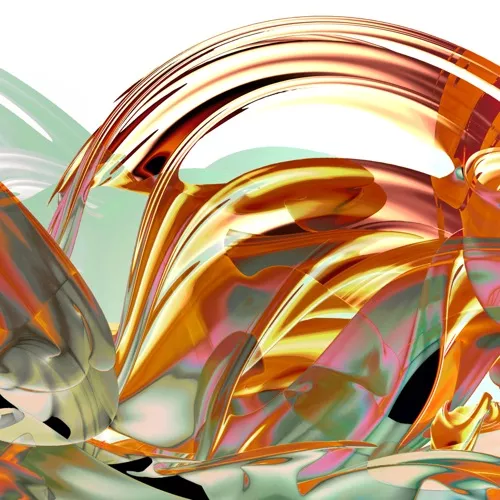 Harris Dimitropoulos, Dichroic "Red". Giclée print on canvas, 48-inch by 48-inch (image courtesy of the artist)
For Dimitropoulos, this work is about exceeding limits. Intentionally using the default function of the computer (as well as readily available software), he fights something predetermined to produce unique objects.
As a studio instructor in architecture at Georgia Tech, Dimitropoulos was forced to accept our increasing dependence on technology. But he went beyond accepting to embracing — since the mid-'90s, his artistic output has been almost entirely digital. When he talks about these pieces and the arduous process of constructing them, however, it is evident that he still believes in the goodness of manual work.
And what about the title of the show? Briefly, hecceity is that which makes something unique, an object's "thisness."
This work is perfectly capable of standing on its own, but if you choose, the knotty artist statement accompanying the exhibition can lead you down a trail of critical theory and philosophy that can be confounding, inspiring or both. Welcome it or ignore it, but don't be intimidated by this or any other complex artist statement. Artists travel many paths — in terms of both inspiration and method — to get to their work.
Harris Dimitropoulos: Hecceity runs through October 22 at the Storrs Gallery, University of North Carolina at Charlotte, College of Arts + Architecture, School of Architecture: http://coaa.uncc.edu/Academics/School-of-architecture/