Not all hallways are created equal. If you need confirmation of this, just visit Gallery Up in Rock Hill. A hallway gallery is often an afterthought, a sop thrown to artists. But Gallery Up is a jewel box.
I spent a few hours last Thursday hanging out in this beautiful spot for the opening of 30 Small Works, an annual juried exhibition that attracts artists from across the country. Gallery Up also includes a store and a custom frame shop, discrete spaces that sustain the exhibition program. You can find all this on the second floor of the Gettys Art Center, a former post office and courthouse building that now houses an array of studios and other arts-related enterprises.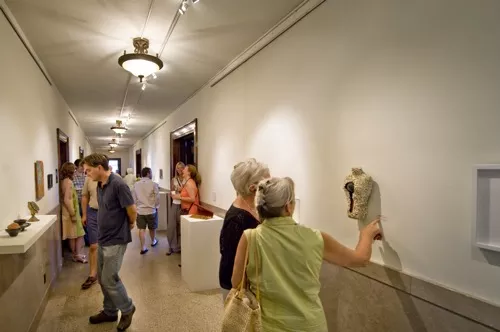 30 Small Works opening at Gallery Up in Rock Hill
A juried exhibition can be a real crapshoot for a gallery, because you're dependent on whatever artists send in for your consideration. But a great space and a no-nonsense juror can go a long way toward corralling a woolly assortment of submissions into a coherent show. 30 Small Works , now in its third year, always looks tight and this year's version seems particularly so. And it looks as if juror Ce Scott, the Creative Director at the McColl Center for Visual Art as well as the Harvey Gantt Center, brought both her critical eye and her experience as a private chef to the task. The show has more than its share of dessert imagery, my personal favorite being Tabitha Ott's luscious Dulce Brooch.
The gallery has always benefited from a strong pool of local artists, but early on there was a desire to expand its reach nationally. Gallery manager Stephanie Jordan and former co-manager Alfred McCloud proposed the juried show to owners Tamara LaValla and Zan Maddox as a way to bring in artists from across the country. (Or even the world — it was opened up to international submissions this year.) "It's been pretty consistent over three years," says Jordan. "About 20 percent of the submissions come from the area, which includes Charlotte. This year, there were over 300 entries from 120 artists."
Artist and Winthrop faculty Shaun Cassidy chats with Gallery Up co-owner Tamara LaValla
In a little more than three years, Gallery Up has become an important venue for area artists, who have long struggled with a dearth of professionally run places to show their work. The gallery was honored this year with the Business and the Arts Award from the York County Arts Council.
"It took us a while to feel comfortable approaching people and asking them show in what is essentially a hallway," says LaValla. "But after a while, we decided that this is what we are and we could be proud of it. We're here in this historic building, and the building is gorgeous."