If its seems like every other post on this blog mentions Dugg Dugg, perhaps that's because in the space of 15 months, this gutsy little group has managed to insinuate itself into nearly every crevice of the Charlotte art community.
Venue for Friday's "Long Live the Living," a Dugg Dugg and CAC collaboration. All images courtesy of the artists/Dugg Dugg.
And now, Charlotte is in the midst of Southern Holiday, a multi-day, multi-venue effort that began May 14th and continues through the 23rd. Dugg Dugg's first Southern Holiday in 2009 totally reflected its DIY roots, but this year, institutional heavyweights such as McColl Center for Visual Art and The Light Factory are pleased to have their events under the SH marque.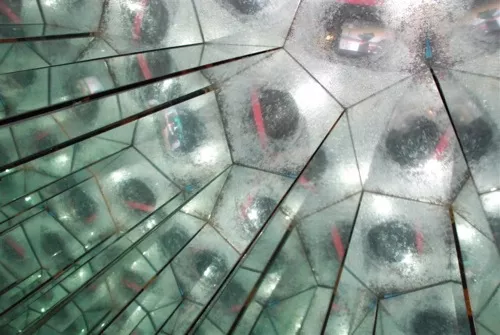 David Sackett - "22nd of May"
If this is the first you've heard of Southern Holiday, that means you've already missed seven events, including Alex Smith's PaperGirl Project, Annabel Manning and Celine Latulipe's Interactive Surveillance and Culture Initiative's Extraordinary & The Something Sideshow. But you still have time for Tuesday night's Point8 Forum with God City; Long Live the Living, Friday night's major collaboration between Dugg Dugg and Charlotte Arts Catalyst; Constructing a Thread of Community from the new Women Centered Art Co-Op; and eight other events.
Lisa Iglesia — Site-specific Installation
After Southern Holiday, Dugg Dugg's future is shrouded in a bit of mystery. Next month, founders Andrea Brown and Iris Williamson decamp for New York. Michael Aaron Southard is joining them for the trip up, but will travel back and forth while he rolls out another project here. While they are planning some local events for the next year, they're also in the process of passing the torch to others who are committed to making sure Dugg Dugg remains a lively and transformative part of Charlotte's cultural scene.
Full schedule and more info: southernholidayisrad.com.