The Gantt Center opened last October, the Bechtler last month, and the new Mint is scheduled to open in October — quite a lot of major events in Charlotte's cultural calendar. And just outside our normal field of vision, another major event is taking shape that deserves our attention: The North Carolina Museum of Art in Raleigh, the state's premier and official museum, is getting ready to open its new 127,000 square foot building in April.
"Ogromna" — sculpture by Ursula von Rydingsvard, a typical new facade in the background. Images by Manoj Kesavan.
Unlike the striking new structures in our downtown, the new building (by architect Thomas Phifer) is very understated and almost minimalist — the long muted metal-clad forms keep a low profile and attempt to blend in with the expansive (and redesigned) landscape of the suburban campus. It is yet to be seen how well the naturally lit gallery spaces come together, how well the artworks would fit in there, and how well it accomplishes the design goal of integrating the interiors with the exteriors. But so far it looks promising and could be a valuable addition to North Carolina's artistic/architectural scene.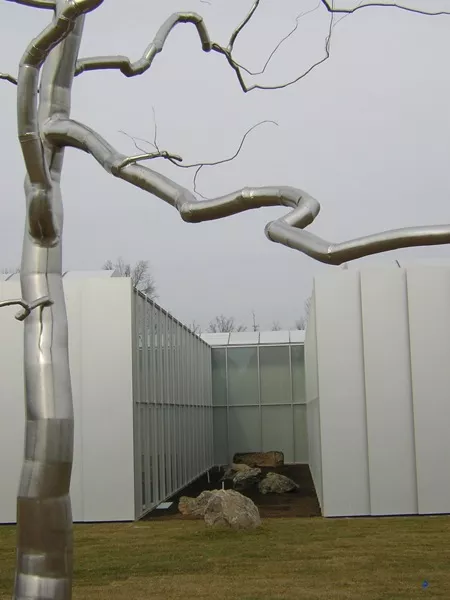 "Askew" — sculpture by Roxy Paine, framing one of the new sculpture courtyards
Beyond the brand new facility, the museum is also trying to expand in other less literal and perhaps more challenging ways: it is trying to reach out to the far corners of the state in an attempt to be a true "state museum" — an institution truly representative of, and of value to, the various communities all over the state. Can a museum located in the East-Central part of the state overcome its geographic limitations, and accomplish that through new collaborative and technological means? Can it have a regular presence in the cultural life of cities like Asheville, Charlotte and Wilmington without being physically present there? That too is yet to be seen.
However from what is there already, and what is in the works, it definitely promises to be worth the two-hour drive out there in late April.
And while you are out there, also try some of that yummy East Carolina barbeque ... just kidding!! I know, who would want to do that ... right?!
More links/info:
Campus expansion – Main page: http://ncartmuseum.org/interim/expansion.php
Flickr slideshow of the expansion: http://www.flickr.com/photos/ncma/sets/72157614316369587/show/
Newly commissioned art works:
Askew by Roxy Paine: http://ncartmuseum.org/untitled/2009/05/building-roxy-paine/
The PBS page on Ursula von Rydingsvard: http://www.pbs.org/art21/artists/vonrydingsvard/index.html#
And finally, an in-depth interview with the architect – quite a rarity in these days of marketable sound bites: http://ncartmuseum.org/interim/pdf/interview.pdf
(Thanks to Chad Weinard, Manager, New Media, and Melanie Davis-Jones, Director of Marketing, NCMA, for the tour all and the information)