I went on a double date with some cowboys last week ...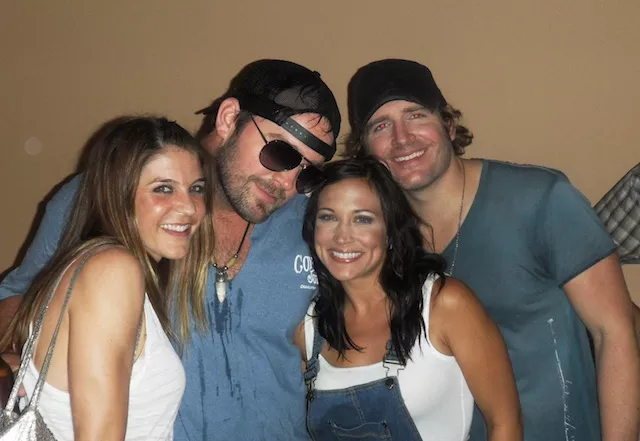 OK, so not really. I went to a country charity concert at Coyote Joe's with a girlfriend and found myself backstage with my friends from 96.9 The Kat, and in a picture with country artists Lee Brice and Jerrod Neimann.
You always hear about hip-hop video vixens, and the groupies that flock to rappers and ballers. But it's no different for country artists and NASCAR drivers. They just have a different breed of groupies.
I witnessed Jerrod Neimann convince a room full of women to drop down and do push-ups and then touch tongues, like a perverted Simon Says. And meanwhile Lee Brice was making out with some blonde fan in the middle of this game. He didn't even come up for air long enough to pose for a group picture. As you can see from his backward baseball hat.

I don't get it. What makes these men so appealing to women? Fame ... money ... power? That doesn't make them sweet and compassionate. And definitely not good boyfriends — or hook-ups even. Practice may make for a better performance, but it also makes things less safe and sanitary. Why would any woman want to give up her own identity for a guy who has other women throwing themselves at him because of his status, regardless of his relationship status. And more importantly, why do women throw themselves at them? Like it's a competition: Whoever ropes them a cowboy on stage, wins. But what do you win, exactly? A life of insecurities and infidelity? Unless you're Kate Middleton, you're not going to become a princess for seducing a man with status.
But who am I to judge? I'm the one in the picture with country stars and with an ex in the NBA. I went through a phase where I would be more flattered by the NASCAR driver or football player who hit on me than the average Joe. And then I'd pretend to be perfect, hoping they'd fall in love with me and make me Mrs. # (insert jersey number or car number). But then I realized how pathetic I was becoming — like an employed desperate housewife of Charlotte, trying to become rich and famous through osmosis, but only becoming insecure and greedy.
The average Joe is just as rich and powerful as any athlete, musician or actor when it comes to love. Just because some guy is taller and can dunk a ball, or can sing better, does not make him a better man than Joe.
Besides, players like to play on and off the field, using women as their ball. But with all the groupies, it makes the game so easy for them. So, can you blame them?