On Valentine's Day, I got the following e-mail from a guy friend:
Subject Line: Happy Va-jay-jay Day
Welcome to Austin Britt! Here's a coupon for a $5 Swarovski Vajazzle with a Brazilian wax, with love.
The forwarded message from the Waxing Studio included a link to a video of Jennifer Love Hewitt talking to George Lopez about how she thinks every woman should get vajazzled. What is she,The Ghost and Vagina Whisperer?
Vajazzling is basically bedazzling your vagina. Kinda like going to Michael's and buying gems to hot glue to your vagina. I've always wanted to have a jewel-encrusted vagina.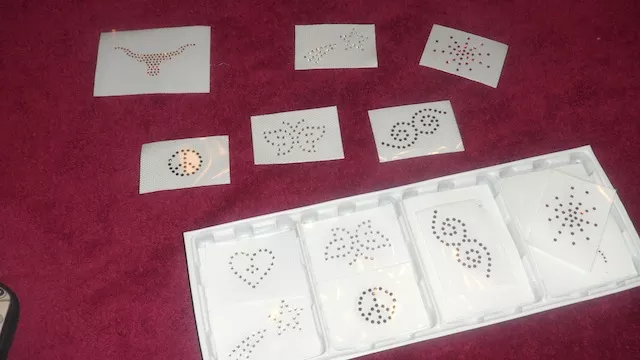 "That is a horrible idea" … "Won't the beads rub against our skin?" … "If I saw a girl with rhinestones on her vagina, I'd ask to see her ID to make sure she was over 13" — these are the sentiments I got from my guy friends.
And then they bet me I wouldn't do it … which made me want to. "You might as well give herself a little action down there," they quipped. Considering I don't have to worry about scaring or chaffing a guy, I agreed to their bet, demanding home-cooked Texas BBQ and a gift card to Whole Foods. Apparently I'll do anything if you feed me.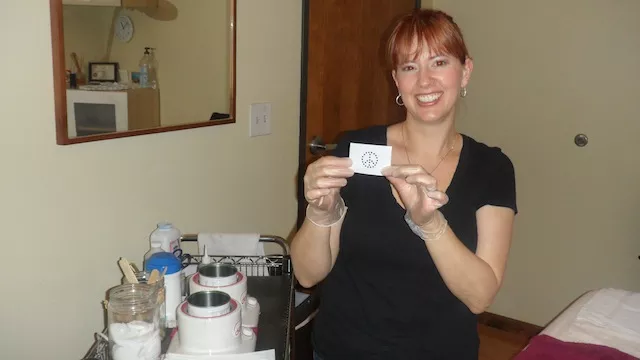 So last week I went to the Waxing Studio where Tiffany here laid out Swarovski crystals in the shape of Texas Longhorns, fireworks, shooting stars, and butterflies. I went with a blue peace sign. When she put on her latex gloves, I gripped myself for pain, like she was about to give me a Brazilian wax. But it didn't hurt, and aside from having someone's hands on your genitals, it didn't even feel uncomfortable. It's basically like a temporary tattoo — a pornographic one. It just peels off a plastic film and sticks to your skin like a sticker. I suggested they get cat eyes designs — that might be festive.
The catch to the bet, however, was that I had to go out in downtown Austin that night and tell 5 random guys that I just got vajazzled and see how they responded ...
Random guy #1: "What is that?"
Random guy #2: "What the F%$& is that?"
Random guy #3: "Show me!" (I showed him my back as I walked away.)
Random guy #4: "Huh?"
Random guy #5: "Why?"
So the consensus is ... what's the point? My peace sign vajayjay adornment was more the butt of a joke than it was sexy. It lasted all of five days, losing a rhinestone here or there. Now I won't scare off a guy ... with my vajazzle at least.
I gave my intern, Jordan, the assignment to find a place in Charlotte that offers Vajazzling. Once she reconsidered why on earth she works for me, she searched to no avail, even calling Vajazzle themselves, sitting on hold for two hours. Either this is really a new craze, or their call center is understaffed. Get on it Charlotte salons. *wink*