You might not believe a classically trained chef with a degree in women's studies and studio art would be the founder of a local nail polish subscription company. But behind every working girl is a million dollar idea waiting to materialize.
Tulane graduate L.T. Niosi had not even untied her apron before she was offered a job in New York City working for online media outlets like Food Network and Four Seasons Magazine. A dreamer disenchanted with a downtown life doing menial tasks like HTML coding, Niosi decided to take life by the reins, with a good manicure that is, and build her own startup. In May, she called it quits with her old life and by August the first shipment of her new brand, Pistol Polish, arrived at the doorsteps of eager subscribers.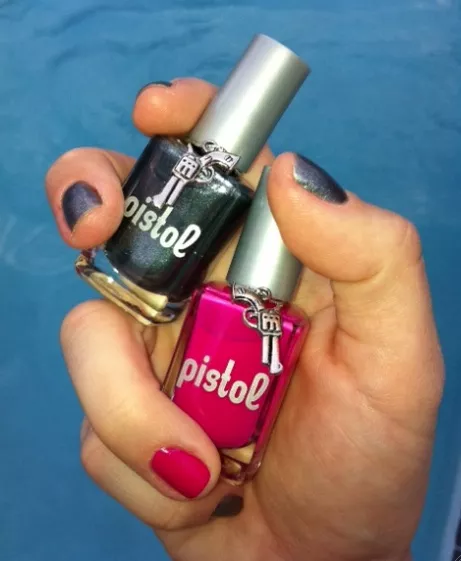 It all started with a cup of coffee and a New York Times article on a phenomenon known as the "Lipstick Push." In short, the concept argues that the cosmetic industry is one of few that continues to boom during an economic downturn. Something clicked, and Niosi knew right away that she was on to something. One thing lead to another and now the Northern transplant is living in her favorite city in the South, putting the lipstick push to test.
It makes sense, she says. "Women will still treat themselves to a lipstick or polish, even if they're watching their spending, because it's a quick and inexpensive boost."
Now in its second month of shipment, Niosi is receiving orders from polish lovers across the country. Buyers simply sign up online, pay $17.99 per month and receive two shades, one traditional like September's "Ahh-Blaise-ing," a deep wine named after the founder's sister Blaise, as well as another that's more daring like "Bulletproof," a deep teal. Each polish is FDA approved and D4-free, meaning nasty chemicals like toluene, formaldehyde, dibutyl phthalate/DBP, and camphor are nowhere to be found in the ingredient list. In terms of the health consciousness of the polishes, they beat the best-selling non-toxic lacquer brand "butter LONDON," which is only D3- free. Though the genetic makeup is safer, these polishes definitely don't sacrifice quality or consistency. The applicator is spot on and the glaze is smooth, shiny and most importantly, long lasting.
Niosi, a self-proclaimed beauty junkie, knows Pistols don't have time to waste when they're out taking on the world. Which is why from sign up to dry, Pistol is a user-friendly, convenient alternative to conventional mani and pedi options.
"Polish is just like any other accessory," she says. It helps a woman feel confident, sexy, and pulled together in a matter of minutes.
The brand is a projection of the founder herself. The 20-something, vivacious entrepreneur is the epitome of a pistol. She oozes confidence and a go-getter attitude while exuding an aura of polished refinement. Though she claims her traditional style consists of fitted blazers and designer denim, she laughs when she admits her style icon is the avant-garde and somewhat strange character, "Beetlejuice." You might take one look at Niosi and assume she's a corporate gal straight out of the high rises of Uptown, but if you pay more attention to the small details, you'll discover she's funky and slightly mysterious with an edgy streak, waiting to take on the world of cosmetic retail and beyond.
Expect Pistol's fall batch to include bold colors like cobalt blue, emerald green and tons of jewel tones, hand picked by Niosi with the help of trend reports and the pantone color guide.