If you're on the stylish content-sharing site Pinterest, chances are you've repinned a photo of one of Vestique's garments to your fashion board. The owners of the recently opened women's clothing and accessory boutique know the power of social media and have channeled that into a successful new storefront, coming a long way from what started out as a whim.
On May 31, the second location of Vestique, located in Dilworth, will celebrate its grand opening.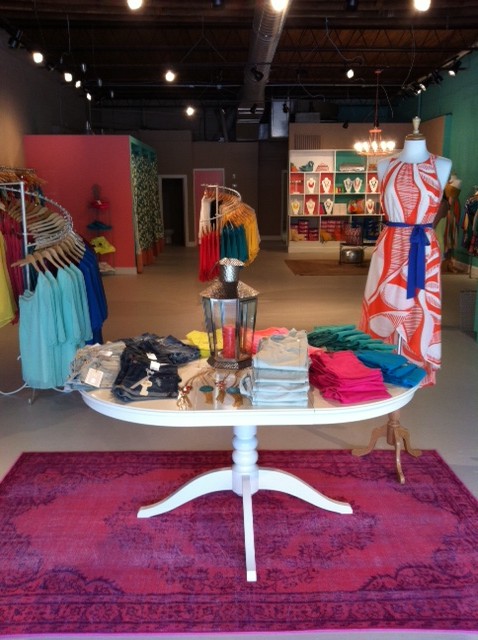 Owners Morgan Genty and Caroline King were friends in college, graduating together from NC State University in 2007. The pair originally launched their business as an online venture on the side, filling orders after work at their corporate jobs and in their spare time. The shop grew to have a following through Facebook, Twitter, their blog and even Pinterest.
"We didn't have a lot of advertising dollars, so we relied heavily on social media and word of mouth," says King. It seemed to have worked. The demand for clothing was so great - reaching 48 states and even internationally - that they took a leap of faith and decided to quit their day jobs and make Vestique (the word vesti means garment or clothing in Italian, with the added "-que" at the end for boutique) their full-time passion.
The success of their website lead to a brick-and-mortar location, the first one in Raleigh. Genty and King opened their second store this past Monday here in the Queen City, less than a year after the success of the Raleigh shop.
"We really took a look at where our sales were coming from and we were pleasantly surprised to see that the bulk of them were coming from Charlotte," Genty said.
The shop is spacious and bright, showcasing the crop tops, patterned blouses, and pastel-colored, one-shouldered dresses of the season. The back wall holds a treasure trove of statement necklaces and sandals to complete the look. They feature different designers from all over the country, with every item in stock handpicked, on-trend and in demand. Items are typically only restocked once, so customers know that what they purchase is unique. And even better news for your wallet: Everything in the store is less than $100, with many items $50 or less.
"We like to think that anybody can shop here. College girls, young professionals, new moms ... our moms are 60, they rock it all the time. My 90-year-old grandmother just bought a necklace from us the other day. We've definitely got something for everybody," King emphasizes.
And it seems to hold true. The first day the doors opened brought in a variety of customers, from high schoolers to college students, young professionals to new mothers. The Charlotte location is a prime opportunity to expand their customer base as well, with the city boasting more young professionals and working mothers than the Raleigh store, which primarily caters to college students. "We ordered some stuff that we think will do well in Charlotte more so than Raleigh... more sleeves, things to wear to work and out after," says King.
The community has been welcoming, with local shop owners stopping in to offer support. "We were driving down East Boulevard and it just felt right," says Genty.
Adds King, "If this is any indication of what Charlotte is like, then we're going to love it."
Vestique is located at 1532 East Blvd.