Saturday night, I had the pleasure of attending the 25 Most Stylish event at Butter in the N.C. Music Factory. This fashionable event serves as the kickoff to Style Week Charlotte every year, and this year all of the attendees were able to "party like a rock star."
As a "Hall of Fame" inductee, one of the top 5 of the 25 Most Stylish circa 2010, I enjoyed seeing all of this year's winners come out to show off their best looks. Honestly, I haven't seen so many fashion-forward folks in one room in a very long time, if ever!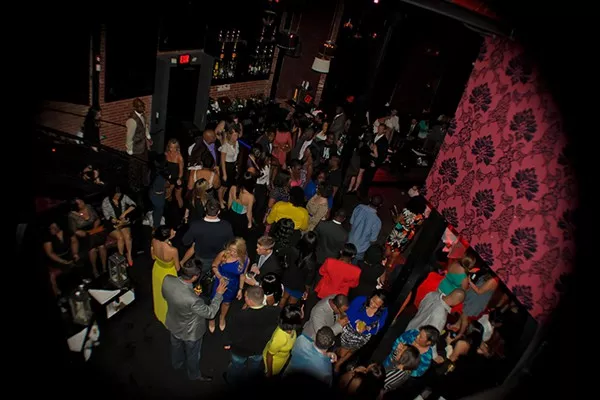 With all of the night's activities, from red carpet photos and the VIP mixer to the fashion presentation by Saks Off Fifth, the event was certainly not one to be missed. In fact, I ran into a good friend of mine, Samantha Badger, who was excited to be nominated for a second time. "I really love what Bridgette has done to bring more stylish events to the Queen City," she said.
That's Bridgette West she's talking about, founder and creator of Style Week Charlotte and the 25 Most Stylish event. (Stay tuned for footage from the entire night of festivities.)
I had a great time hosting the 360 Shoe Cam, in which I lured attendees up on the podium to show off their shoes. It seems I'm not the only one who's having a love affair with footwear. Both men and women were definitely not shy making their debut!
Be sure to come out for some of the other official Style Week events!
Thursday: Say Red: Cocktails & Conversation
Saturday: Charlotte's Day of Style - Saturday April 21, a city-wide shopping and dining soiree to benefit the Ronald McDonald House of Charlotte. The event is supported by local restaurants and retailers including Ballantyne Hotel's Gallery Restaurant, Seventy-Two Shoe Boutique, Petal Boutique, Scarlett Boutique, Revolve Upscale Men's Consignment Store, Summerbird Boutique, Cottage Chic, F.L.A.M.E. Boutique, The Benjamin Bear, and Le-Mu-El Boutique.
Saturday: Passport to Fashion
T. Strong is a TV personality, personal stylist and fashion journalist who contributes commentary on Creative Loafing's Klepto blog in addition to writing for several other national media organizations. To learn more visit www.StyleMayvin.com or follow therealtstrong on Twitter.