Last night kicked off the three-day CIAA fashion-inspired event, Mode Noir at Harvest Center. Founder LaVonndra Johnson of Elle VJ boutique explained her inspiration to bring fashion to the front line of a weekend of sports and parties. "I wanted to do something during CIAA and I'm not a partier, you know, fashion is my thing so I just figured, 'Why not have a fashion show during CIAA?'... and mix the cultures because we have so many different people coming to town. I not only wanted to mix the culture of the attendees but also the designers. I just figured why not bring everyone in, they're here anyway partying, let's do the fashion thing."
The event's goal, hand in hand with CIAA's aim to highlight Historically Black Colleges and Universities, is to spotlight African-American designers and visionaries. In organizing the event, Johnson hopes to bring not only fashion to the Queen City during CIAA but also arts and culture.
The first night featured day and casual wear from local stores, Francesca's, Hut No. 8, and Saks Fifth Avenue Off 5th. Also included was Bipolar Couture, a edgy custom apparel line started by three different designers from New York. DRC Apeparel, a globally conscious brand, "Made in America, Inspired by Africa" impressed with bold prints and colors. The finale featured Atlanta designer, Charles Lynch. The runway also showcased local child designers from Style Sanctum, a program that inspires creative minded children to pursue art in the form of fashion.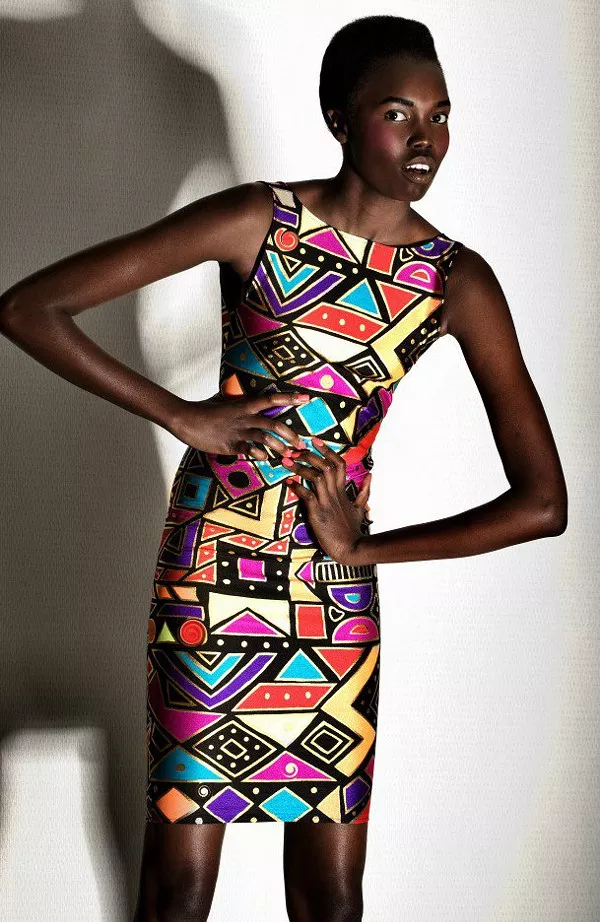 Mode Noir Facebook
Charles Chic by Charles Lynch
Judging from audience reaction, Charles Lynch seemed to be the most awe-inspiring segment of the evening. (Check out a sample of his work pictured above. You'd be thrilled, too.) He thrilled onlookers with a variety of leather mini dresses, in traditional black and also the "it" colors for spring: fluorescent hues of peach and yellow.
Johnson also brought art to the spotlight, showing off a large Gullah-inspired canvas artwork from Sabree's Art Gallery, which will be auctioned off on the final day of Mode Noir, with 100 percent of proceeds benefiting the Presbyterian Blume Pediatric Hematology and Oncology Clinic. The cause is very dear to Johnson's heart, as her young daughter was diagnosed with Sickle Cell Disease and receives treatment there regularly.
Stay tuned for the reviews of night two and three of CIAA fashion featuring accessories and accoturements and a black tie finale.