When your editor tells you to go shopping for a blog post, you do as you're told. And I did — quite happily, might I add.
Yesterday, I spent a few hours hitting up some locally owned boutiques in search of the perfect semi-formal dress for Bartender's Ball, happening this Sunday at the Blake Hotel. Since I couldn't just pick one, I picked my three favorites.
First stop was Metropolitan's newly opened Lipp Boutique. As soon as I mentioned Bartender's Ball, store manager Leah Britt led me to the perfect little black dress with a sexy twist.
The BCBGeneration one-shoulder piece is made from a stretchy seersucker fabric. I nicknamed it the mullet dress because it reveals a sexy shoulder on the left, and an elegant sleeve on the right. Priced at $88, Britt and I both agree that the dress gives you more bang for your buck. "It's an affordable choice for Bartender's Ball, and you can re-wear it with tights and boots later," she says.
My next choice came from NoDa hotspot, Vivian B. I fell in love with a $268 hand-beaded French Connection dress.
The impeccable sequined detail gives the illusion of snakeskin against the soft coral hue. This dress is perfect for the woman who wants to feel feminine and flirty at the same time. Vivian B Fashion Consultant, Brandon Young says, "This dress is easily accessible for any skin tone or body type because it is a muted color."
My third and final choice came from Boris & Natasha in Plaza Midwood. This dress was also French Connection, priced at $198.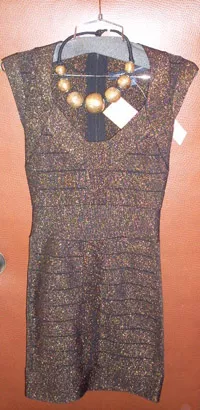 Sales associate Kayelani says, "I like this dress for Bartender's Ball because it's structured and fitted, so it compliments the body." I refer to this dress as the "sparkler" because of its glitzy yellow-gold accents. On the rack it looks simple, but when the fabric moves, it gives the illusion of sparks flying. The woman who wears this dress is sure to be a knockout.