Thursday night's show at Gateway Village, courtesy of Charlotte Seen Fashion Week, did not end with the announcement of the Emerging Designer winner. Oh no, after the voting started, three more designers began to show their fabulous collections.
The first to show among the designers was Odelia Rouse, who hopes to be known as a designer who not only is passionate about her craft, constantly seeking way to improve her collection in an innovative way, but also one who shows sensitivity to a woman's figure. Rouse's collection was beautifully constructed as her desire to craft clothing fitted to a woman's figure was accomplished because each piece fit them perfectly.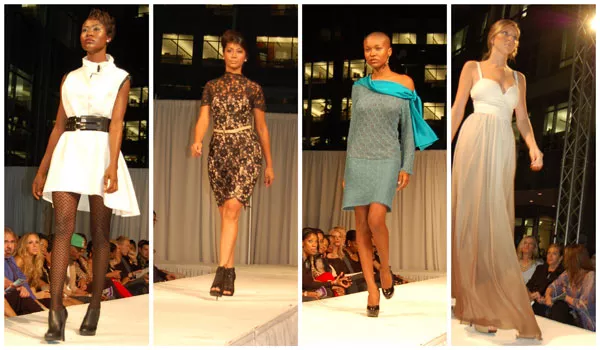 Next to hit the runway with his collection was AugustBrandon by August Fulton. His slogan: "Designer by choice, tailor by gift." His main focus is to design marketable pieces that could be sold out of department stores, in all sizes. As a designer he understand the economic circumstances, and his line is friendly to his customers' bank account, with pieces priced anywhere from $65 to $350. He not only does women's wear but also does pieces to make your man look fashionable as well.
Finally, Kevin Vain ... .who is only 16! 16! At 16, I was wearing flip-flops and pac-sun gear without any style whatsoever. But this 16-year-old is amazing, and his collection was beautiful, edgy and strong. When the models of this collection came out, the energy changed and from the photographs of his pieces, you can why.