What's on your agenda for this Memorial Day weekend? Well, if shopping isn't on the list, it definitely should be. With so many Memorial Day Sales going on, where's a girl to go?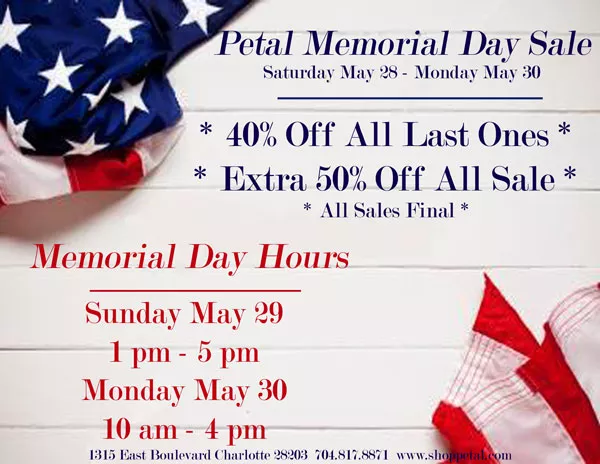 The first stop on your list should be Petal boutique. Starting tomorrow, you can get 40 percent off any "last one" item, so if it's the last of its kind and it's your size, a relative's size or even your friend's size, you should definitely snatch it up. Going to a barbecue? Why not take a small gift to the hostess? I know I would rather have a fabulous new shirt or accessory than a pot luck dish. But hey, that's just me.
Then, to make the deal even sweeter, you can also get an additional 50 percent off any item already on sale. I really do love a sale on sale. And, some of the trendy brands you might be able to score at the best price of the season are Shoshanna, t-bags, Citizens of Humanity, James Jeans, Alice & Trixie, plus many more. You can't possibly need more convincing than that! Check them out on Saturday during normal business hours, Sunday from 1-5 p.m. and Monday from 10 a.m.-4 p.m.
Petal is located at 1315 East Blvd. 704.817.8871
T. Strong is a TV personality, personal stylist and fashion journalist who contributes commentary on Creative Loafing's Klepto blog in addition to writing for several other national media organizations. To learn more visit www.StyleMayvin.com or follow "therealtstrong" on Twitter.