The official opening for the Q.C.'s newest guilty pleasure, Nordstrom Rack will be happening bright and early tomorrow morning.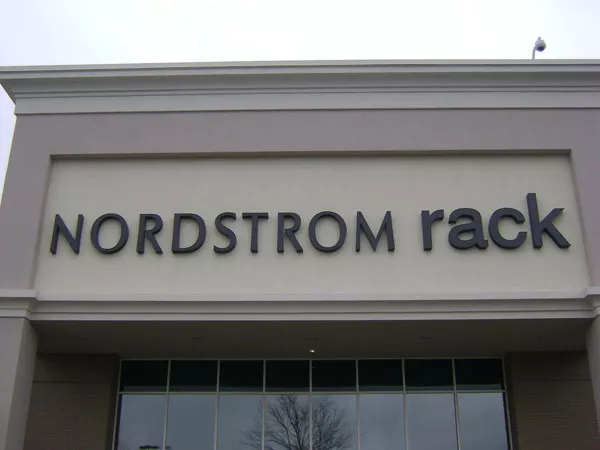 The line usually begins to form at around 6 a.m. or 7 a.m., so get your rain gear ready for your chance to win a $2,000 shopping spree. The "Race Through The Rack" sweepstakes winner will be announced at 8:45 a.m. and no pre-purchase is necessary to enter. Luckily, I had the exclusive opportunity to go in today and scope out some of the fabulously fashionable, yet affordable merchandise they have to offer. (I love my job!)
If you like shopping the Nordstrom retailers in the mall, you will absolutely adore the Nordstrom Rack. It's the same great designer merchandise from the top names like Vivienne Tam, Michael Kors and Dolce & Gabbana but at outlet prices. Starting at 50 percent to 60 percent off and constantly changing to give customers the "rack" up on tons of coveted designer pieces. With over 25,000 pairs of shoes on a regular basis (swoon), I simply fell in love with the entire far left wall of the store. It is covered with shoes, shoes and more shoes ranging in sizes 4-13 for women and 7-16 for men. There are collections for men, women and children and ladies, they even have Spanx ... on SALE.
If you want to purchase an item that doesn't quite fit perfectly, don't fret. The on-site tailor has over 20 years experience in the industry and would be more than happy to offer you that same quality customer service you find in the Nordstrom retail stores. There's certainly something there for everyone and for every budget. Nordstrom rack brings in a new delivery almost every day so frequent visits are definitely suggested. I've already gone ga-ga for the sunglasses wall which boasts such designers as Yves St. Laurent, Valentino, Jimmy Choo and Gucci. These designers eye wear retails for upwards of $300+ but they have them all for under $100. The summer sure is beginning to look extra bright with the arrival of Nordstrom Rack.
Nordstrom Rack is located in Carolina Pavilion on South Boulevard near I-485.
T. Strong is a TV personality, personal stylist and fashion journalist who contributes commentary on Creative Loafing's Klepto blog in addition to writing for several other national media organizations. To learn more visit www.StyleMayvin.com or follow "therealtstrong" on Twitter.