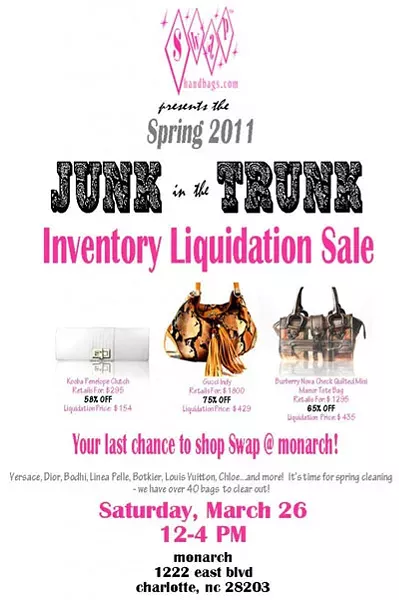 There aren't very many women I know who don't love handbags, myself included, and normally just the thought of designer handbags tends to kick that love up a notch to where it becomes lust. Charlotte never ceases to amaze me with the opportunities to grab these types of coveted pieces at discounted prices.
Is there a Dior purse that you've always wanted? Maybe a Chloe clutch you could never make yourself pay full price for? Or what about that classic Louis Vuitton wallet you've been wanting for years? It's quite possible that you could find one or all of these styles and brands at the Inventory Liquidation sale at Monarch. Just the words "Liquidation Sale" make the hairs on the back of my neck stand up and when there's quality, authentic, designer pieces ripe for the choosing, it's an opportunity no fashionista should miss. This sale event, aptly entitled "Junk in the Trunk" is a collaboration with Swap Handbags and it's Monarch's way of offering their current and new customers the opportunity to take advantage of phenomenal pricing while they do a little spring cleaning. With over 40 bags to grab, don't miss your last chance to shop Swap at Monarch on Saturday , March 26th from 12 p.m.-4 p.m.
Monarch is located at 1222 East Blvd. To find out more about Swap Handbags, a website that allows you to rent or purchase designer bags visit www.swaphandbags.com.
T. Strong is a TV personality, personal stylist and fashion journalist who contributes commentary on Creative Loafing's Klepto blog in addition to writing for several other national media organizations. To learn more visit www.StyleMayvin.com or follow "therealtstrong" on Twitter.