Spring is in the air! Well ... maybe not today exactly, considering it's been raining all day — but what better day than this to shop?! I stopped by Vivian B Boutique in NoDa earlier today to chat with Kimberly the owner, and I caught her unpacking fabulous new spring pieces! I get so giddy when the seasons change because it presents the awesome opportunity to revamp your closet, throw some things out and purchase lots new items, and Vivian B is the perfect little spot to find something to brighten up this gloomy day.
Two new designers the boutique will be carrying this spring is Aryn K and Line & Dot. I simply fell in love with the crochet top by Line & Dot. Crochet, if you didn't know, will be a HUGE trend this spring and summer and this little shirt is a great way to introduce it into your wardrobe.
I've always been a big fan of seersucker so it's great when I find something in this trend that isn't the usual blazer or slacks. Vivian B has the absolute cutest strapless seersucker dress by Aryn K which is perfect dressed up with chunky jewelry and heels or dressed down with sandals for a day at the beach. Don't you just love items that have enough functionality to take you from day to night?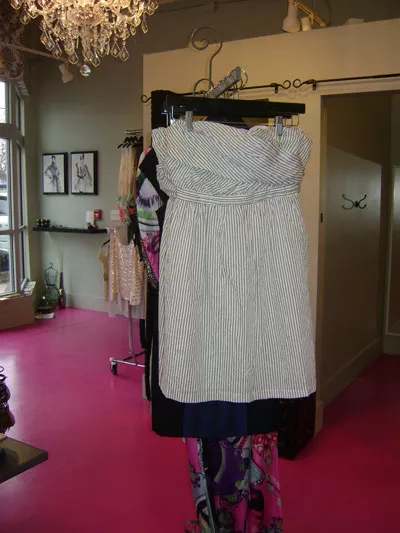 Also on the list of new arrivals is fabulous crystal jeweled pendants by Andrew Hamilton Crawford. These pieces have been featured in Lucky Magazine and even the infamous Lady Gaga has worn this designer. Then, if that weren't enough, Vivian B also just brought in candles by Voluspa. These wonderfully scented candles are a favorite of Oprah's and have been recently spotted in In Style magazine.

Vivian B has all of the celebrity favorites and I'm sure you'll find some of your own there as well.
Shop Vivian B in NoDa at 3100 N. Davidson St., (980-939-1612).
T. Strong is a TV host, personal stylist and fashion journalist who contributes commentary on Creative Loafing's Klepto blog in addition to writing for several other national media organizations. To learn more visit WWW.StyleMayvin.com or follow "therealtstrong" on Twitter.