Are you tired of trying to get your butt strapped into those skinny jeans? Well, ladies have no fear! It is time to let your inner '70s child out with a pair of wide-leg pants.
I have to say that, though I've loved my skinny jeans and jean leggings (I have hard time using the word, jeggings), I am thrilled that wide-leg pants are back. The truth is, wide-leg jeans are more flattering on different body types than its skinny counterpart. Though the wide-leg is back, my suggestion is, don't get rid of the skinny jean just yet — fashion is a cycle and eventually they will make their way back. So just store them ... that is, unless you've outgrown them (or kept to your New Year's resolution and lost the weight) then that's the only time to chunk.
So get your online shop on and look at these options (for all budgets) or for the sakes of our wallets I hope you kept a pair or two in your drawer (I know I have a wide-leg pair that I will be wearing more often).
EM Original Bluebells ($198)
I fell in love with these jeans at first glance, if you go to the website you will see a selection of photographs that show off this pant. But ... I can't tell if I love the jeans or that belt more! Somebody please tell me they make this jean in short/petite length.
Pintucked Wide Leg Trouser ($79.50)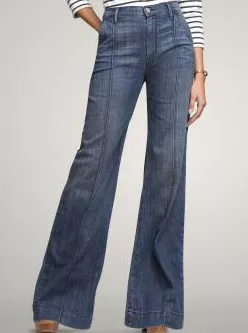 I am a lover of Gap jeans because they have always carried a short version. I am only 5'1" and you can imagine how hard it was in middle and high school when I still was growing to find jeans. So, I have a special place in my heart for them. If you are on the petite side like me here is a link to their petite wide-leg jean options! You are welcome.
DKNY Wide Leg Pants ($225)
Don't forget when you are expanding the width of your jeans, that you need to do the same to your pant selection. A pair like this would be perfect for the work place! If the $225 price tag is a bit much to swallow, try this one from Target (who doesn't love Target?).
Sheela Pant by Merona ($29)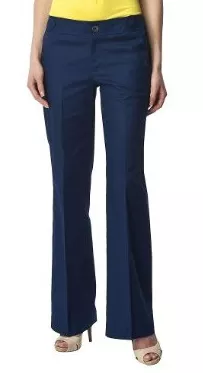 I am loving this navy pant for spring — with a bright-colored top and of course the nude shoe, you will be looking sleek either for the office or on the weekend. Love!
Enjoy your shopping for these new looks and additions to your wardrobe. If you need help on how to get the best '70s look for spring, look at celeb stylist, Rachel Zoe, a lover of wide-leg jeans and that vintage feel.