The questions everyone is always asking after the 53rd annual Grammy Awards show are, who wore what, who looked hot and who did not. I have to say, there was some absolute ridiculousness upon the red carpet and of course some knock-outs.
Let's get to it: who what and wear.
Lady Gaga arrived in a pod
Let's just start with Lady Gaga. Yes, it was a shocker for her to show up in an egg to incubate until her birth on stage for her performance. I feel like it was a cheap trick to skip the red carpet ... at the same time, I also thought it was brilliant because everyone wanted to see her emerge upon the performance of her new single "Born this Way." When she finally hatched on stage, her outfit was no different from her dancers, a sort of two-piece raincoat. I think someone put it best when they said she looked like she was wearing a condom.
Nicki Minaj in Givenchy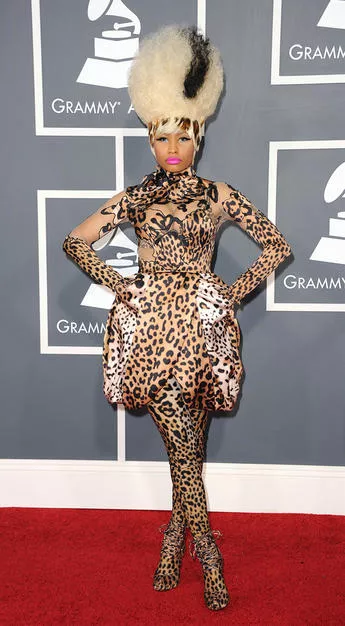 Nicki. Nicki. Nicki. Did you confuse the Grammys for an upscale Halloween party? Because I don't care if you are wearing Givenchy, you look like you couldn't decide if you wanted to be a leopard or Mrs. Frankenstein. I am all about some leopard print ... I won't lie, that dress had the potential of being fierce. But a literal head (notice the hair) to toe interpretation is just all wrong.
Selena Gomez in J Mendel
While I was taking notes watching the Red Carpet on Sunday night, the first thing that came to mind when the cameras got a glimpse of Selena Gomez was how classy she looks. This dress is an age-appropriate look, and her entire look is rocking. I think Miley Cyrus needs to either hire Selena's stylist or at least take some mental notes on how not to look like a hooker.
Miley Cyrus in Roberto Cavalli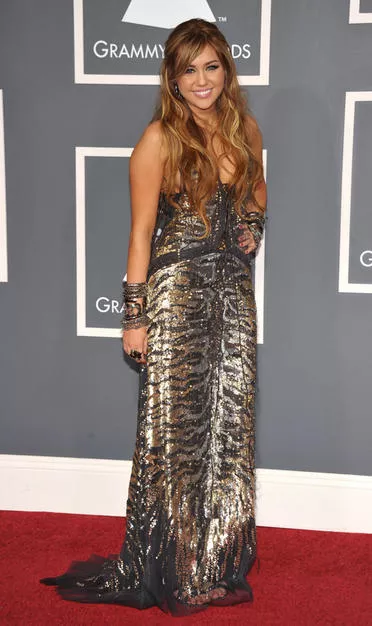 Speaking of Miley ... You cannot tell from this photo, but while she was doing her interview with Ryan Seacrest, there was some definite side boobage happening. I would not be surprised if she had a few wardrobe malfunctions during the after-parties. This dress by Cavalli is too busy for her hair to be down and wavy or with that crazy arm jewelry. Lastly, it looks like she is barefoot, but upon further investigation she is wearing some strappy shoes. This dress definitely needed a pump. Who is her stylist? I am sure she can afford a better one.
Lea Michele in Pucci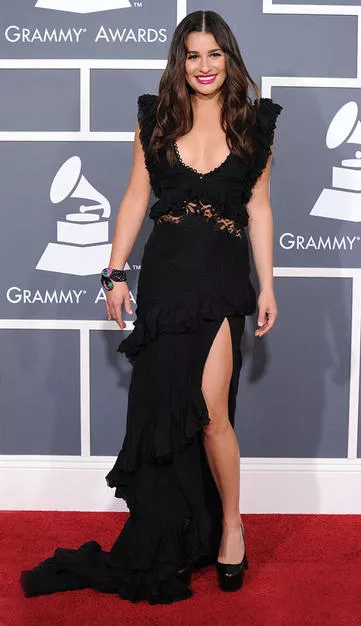 Can Lea Michele do wrong on the red carpet? Her award show picks have been flawless and best dress picks. Once again she knocked it out of the park with this Pucci dress. Everything about this dress is a winner, from the structured shoulders, plunging neckline and high, high slit.
Rihanna in Jean Paul Gaultier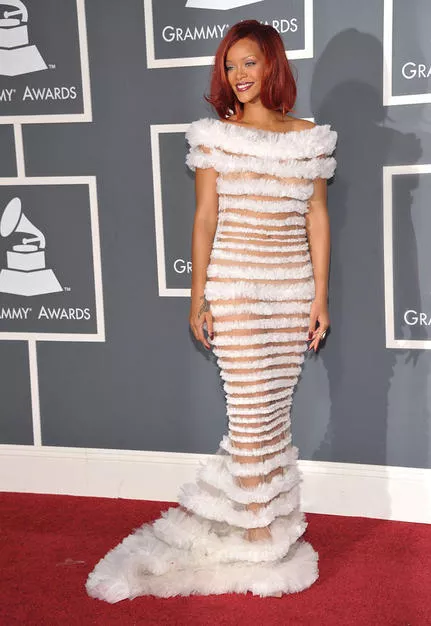 There is no denying that Rihanna is sexy. Just look at her! But I do not need to see all of her in what can only be described as a sheer Christmas garland dress. I can see her belly button ... and well, it makes me think of that saying "I see London. I see France. I can see your underpants." Except I don't think she is wearing anything underneath that dress. The Christian Doir gown she had on during performance with Eminem was a show stopper. I actually picked a dress from that collection for my If I Were Going (to the Academy Awards wish list because it is a flawless couture collection. Sorry Rihanna, your performances were hot, but your dress was not!
Want more Grammy coverage including Katy Perry and Jennifer Lopez? Read more here.