By Nicole Pietrantonio
Unless you plan on using the neck-tie or Christmas socks you bought your sweetie pie as a pair of second-hand handcuffs, it's time to get creative. This holiday season, stuff your significant other's stocking with imaginative gifts that are a hint of naughty and will leave you both feeling very nice.
Personal pin-up
Capture the here and now with a professional photography session — feel free to make this couple's gift as naughty or as nice as you please.
Naughty: Go to a professional photographer in the Q.C. and tell them that you want them to shoot sweet and sexy calendar photos of you for each month of the year. At the end of the shoot, pick out which poses you want to dedicate to each month of the new year. This personalized pin-up will give your sweetie something to look forward to for the next 12 months of the year.
Nice: There are so many wonderful photographers in Charlotte that would love to snap a pose of you and the one you love. After the shoot pick the best image, place it in a frame and give it to your honey at Christmas. Gifts such as these are ones you will treasure for a lifetime.
Role play
If Mrs. Clause were to play Santa's secretary, she would be one sassy little elf. Give "Santa" some eye-candy this year with this sexy Light Up Holiday Elf lingerie ($41.95), found at Yumdrop.com. Let's see what/who get's turned on first — your elf ensemble or "Santa."
Naughty pole
Bring the naughty pole to your bedroom.  Make Santa's cheeks get really red with your very own Electra Pole Stripper Pole ($99.99). An at-home professional stripper pole is definitely the gift that keeps on giving.
Doughboy boxers
Sometimes the more endearing the man is, the sexier he appears. This Christmas give your sweetie a pair of Pillsbury Rollin' Out The Holidays boxers ($13) that will have you both laughing your pants off. These doughboy boxers can be found online at www.WebUndies.com. Other comical holiday boxers can be found at a Target in your area.
Toys for big girls and boys
Square cut or pear shaped, diamonds aren't the only gifts that are a girl's best friend. Stuff your lovers stocking with a Santa's Coming Bag ($23.43) filled to the top with naughty condom pops, vibrators and sexy trinkets galore. With this Christmas gift, your sweetie pie won't mind staying in this winter.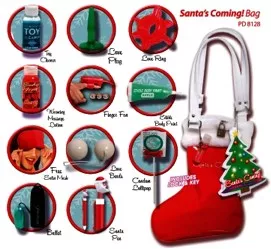 Couple's Massage Kit
Add a personal touch to a couple's massage with this Lover's Choice Romance Massage Kit sold at Target ($9.99). A professional couple's massage can only go so far, but a personal couple's massage has the ability to have you feel fresh and refreshed all in one sitting — bath-towel optional.