This past weekend, I moseyed on over to the Southern Christmas Show at The Park Expo and Conference Center (formerly Charlotte Merchandise Mart). My goal: To find holiday gifts (in particular, jewelry) for a couple of friends. In that case, I had no need to go armed with a suitcase or bag on wheels, like many of the more hardcore shopping folks.
It didn't take me long, until something caught my eye. I scooped up a few of these embroidery/petit point styled necklaces (see pic below) by Netherlands-native Joke Vandergroef. She's been doing embroidery all of her life and started putting the craft into jewelry form 35 years ago. In addition to the necklaces, she also had ear rings and bracelets for sale, as well as other items, like doilies.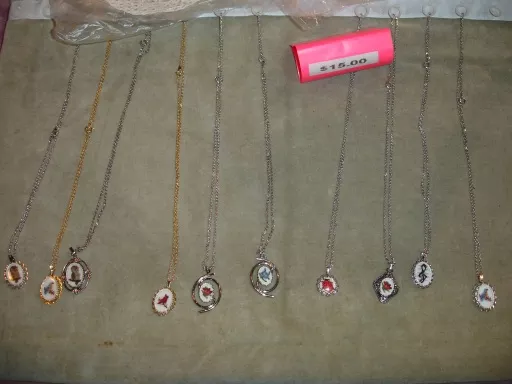 Another booth with sea glass also grabbed my attention (see pic below).
Whether you know what you're looking for or you have no clue, you'll most likely find something here. I found what I came for, so voilà! Shopping complete.
The Southern Christmas Show continues through this Sunday. Tickets are $8 for adults and $3 for children ages 6-12. Dates/times are as followed: Nov. 19-20, 10 a.m.-9 p.m.; Nov. 21, 10 a.m.-6 p.m. For more information, visit www.southernshows.com.