If you can't hear her coming from miles away, you can certainly see her. Lady Gaga and an assortment of costume changes are on their way to the Queen City. Charlotte is one of the many stops for Lady Gaga's "Monster Tour," which will be held at Time Warner Cable Arena at 8 p.m. on Sept. 18. Get ready to "Just Dance" with Gaga and her multiple outfit changes. You'll experience a plethora of extremely original and quite interesting costumes. But, just remember … just because something is original doesn't make it a hit!
Here we take a look at some past looks.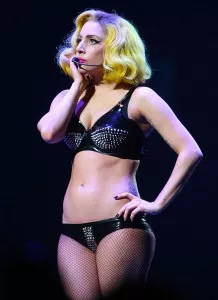 These studs turned out to be a total dud for Lady Gaga at the Monster Ball in Milwaukee, Wisconsin. For Gaga, it's boring and dull. It lacks that special something that she's notorious for bringing on stage. Not to mention, the two-piece set does nothing for her gorgeous figure. Black leather and studs are so last year. Come on Gaga. It's a definite miss. (Photo Credit: MSN Celebrity)
White is the color of innocence … but she's not fooling us. Lady Gaga looks slinky and sexy in this detailed white mini dress. The contrast of the midnight black lashes against the stark white dress creates a sultry look for Gaga. Sexy, short and to the point. It's a hit. (Photo Credit: Buzzfoto.com)
Lady Gaga, didn't your mommy ever tell you to keep your pants on? Here the superstar was photographed with pants on during a dress rehearsal (Oh the horror!), so she decided she needed to change things up before the performance. She took matters into her own hands and wore the same outfit again — this time, without pants. The pattern is plain ugly. Whether it's a onesy or pants, it looks like the pattern of a Dutch grandmother's plate set. The hat tops it off … if only she had some wooden shoes. Damned if you do, damned if you don't. (Photo Credit: PerezHilton.com)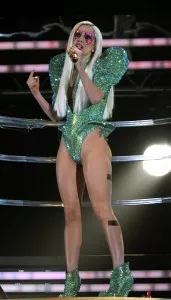 All that glitters is … not gold. We all know Lady Gaga loves her glitter and shine but this little number makes her look more like a sea urchin and less like a star. Who knew Gaga was half mermaid, half woman! This one just didn't work; it's a sopping miss. (Photo Credit: Entertainment Week)
The quintessential "Lady Gaga" is always a hit. This leather black mini, heart shape dress takes angles to the extreme. It's quirky and different, yet simple and understated (for Gaga's standards.) Her hair bow adds an adorable touch to the outfit, making it a winner. Give yourself a round of applause Gaga; it's a hit! (Photo Credit: Fanpop.com)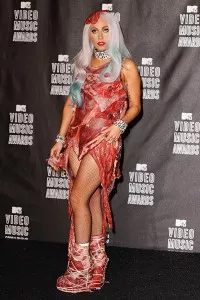 At MTV's VMAs last night, Lady Gaga scored eight moonmen and "Video of the Year." Unfortunately, her fashion sense left a lot to be desired (and it wasn't a hamburger.) The multiple outfit changes between awards were mostly bearable, but the worst of them all was the "meat" dress. We all know PETA wasn't thrilled with this one, but then again…who was? (Photo Credit: MTV)
Only a few days left until Lady Gaga makes an appearance in Charlotte. Hopefully, for her "Little Monsters" sake, it will be a fashionable one.