First it was just a plain Snuggie. Then, Snuggie came out with a version for your dog. Now, Snuggie is partnering with Weezer as the band releases its latest album Raditude. It's getting out of control, isn't it?
For $30, you can get the new album and a standard Weezer Snuggie.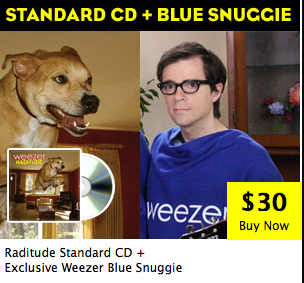 Or for $50, you can upgrade to the Safari Weezer Snuggie (with the album, of course).
And if that isn't enough, check out the new infomercial, featuring members of Weezer as they "celebrate the art of cuddling."