To many people, clothes are not just the rags of cloth you drape across your body to protect you from the weather and cover up the essentials. No, the clothes you wear make statements, from "I only got three hours of sleep and I don't give a crap" (baggy sweatpants, inside-out T-shirt and a hoodie, perhaps even mismatched) to "I'm confident and everyone wants me" (a tight-fitting, perhaps even a little revealing, dress). Then you have the T-shirts that broadcast the presidential candidate you supported or your favorite band.
But when has your clothes ever made a statement about your culture?
Enter Hola Baby, a locally owned small business recently started by former Channel 3 TV reporter Julie Aguirre Whitted, that sells cute Spanish T-shirts for kids. Each T-shirt, designed by Whitted and a family member, sports an endearing term for a child in Spanish. Talk about literally making a statement in your culture.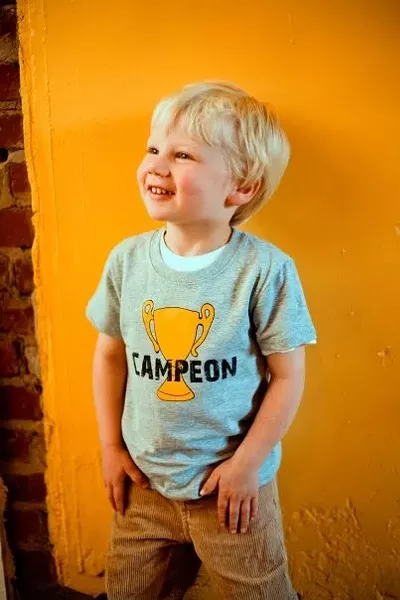 "There are so many sweet words that you call children, in English and in Spanish," Whitted says, who spends most days at home with her children, in addition to a part-time gig at WFAE. "In English, you'll say 'pumpkin,' 'sweetie,' 'baby.' 'baby girl,' things like that. It's the same in Spanish. 'Mija,' which means, 'my daughter' ... everyone will call you 'mija,' from your grandmother to the waitress. It kind of means 'honey.' There's 'mijo,' which means 'my son.' There are just so many sweet phrases to reference children. I tried to ideally capture fun words in Spanish and apply them to T-shirts. I wanted it to be a fun representation of our Latino culture and transfer that onto T-shirts and fashion and style."
One of her main goals with launching Hola Baby is to establish a brand for the Latino community. "Baby Phat is a brand that people identify with the urban culture, but there isn't a brand that people identify with Latino culture. That would be awesome if Hola Baby came to be that brand that represents Latinos, at least with children," Whitted says.
So who does she hope will be sporting her T-shirts? "Hopefully Salma Hayek's daughter and Ricky Martin's twins," she says with a laugh. "Actually, I see my customers kind of being like me, a second generation Latina who wants to continue the culture and raise her children bilingually. It's not as easy when your parents and your grandparents don't live near you. So having a T-shirt is an extra little way of bringing your Latino culture into your everyday life. I see my customers being Latinos but also mothers and fathers who are interested in the world and introducing their children to new cultures."
Right now, there are 11 designs available for purchase: four for girls, four for boys and three for toddlers. The T-shirts were printed up by Contagious Graphics here in Charlotte and can only be found on the Web site.
For more information, visit www.holababyshop.com. And take 15 percent off any purchase through Oct. 31 by using the coupon code "gran estrano," meaning "grand debut."