When I heard that the Queen City was going to be hosting its 1st Annual Full Figured Fashion Week, I knew I had to check it out. The event started last Wednesday, but I was only fortunate enough to catch the last piece of the action at the Silhouettes of a Woman fashion show, held at The Blake Hotel on Saturday. Hosted by the comedian Kashauna from Chicago and with performances by Giselle Greyson, the night was full of more than just figures and fashion. The laughter was non-stop and the energy was more like a big family reunion or roast than an actual fashion show, which probably helped since professionally, there were more than a few kinks that needed to be ironed out.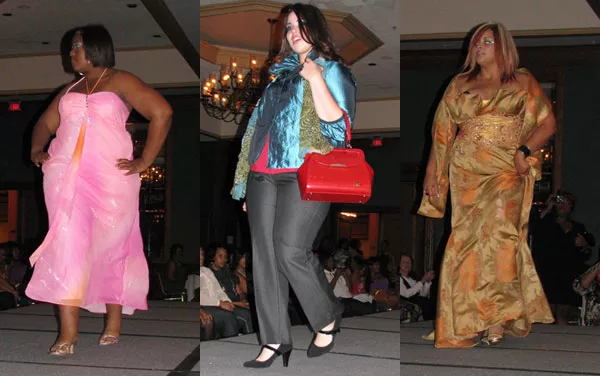 The venue was a great location, but with the horrific lighting, some of the finer garments were not able to be showcased as well as they deserved. The dim light on top of the feedback-filled sound system and a few fashion blunders made the event seem quite amateur-ish, but nothing is going to be perfect right out of the gate. Hopefully next year will be a bit more organized and publicized.
Regardless of the shoddy structure, the heart of the show was more than I expected. Silhouettes of a Woman chose to not only showcase career, casual, and evening wear, but also jewelry and lingerie. This was a well-rounded show, with flattering clothing for every body type and taste. Sponsors included Ashley Stewart, Torrid, Scarlett Plus Size Boutique, EnV New York, Adam and Eve, Fire My Desire, and Big Girls Inc., among others.
Although we were privy to figure-flattering fashion, there was also a bit more skin than I think was necessary. As a big girl myself, I can understand the need to want to feel trendy and sexy in my clothing, instead of feeling like I'm wearing a tent. I was thrilled to see so many pieces that accentuated the curves instead of hiding them, but some pieces carried it a bit far. I don't believe that just because you are bigger means that you should cover up, but leggings with the sides cut out and lace mini skirts just don't seem respectable to me. If we are going to celebrate the body, let's put it in its best light, not mock it. There are just some things that people just shouldn't do, and this is not limited to us big girls. Cut-out leggings and lace minis just don't scream fashion to me.
Overall, I was pleased with the diverse trends and styles exhibited in the show. There was everything from clubwear and business casual to loungewear and costumes, and plenty more in between. With this being the first time the fuller figure has been honored with its own week here in the Q.C., a few flaws were to be expected. I only envision this event becoming bigger and better.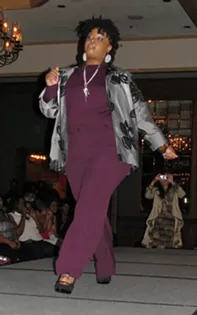 51 slides