Now that you've learned how to find the perfect fitting jeans, it's time to dig deeper. Sure, your jeans fit, but are they the right jeans for the right occasion? Everyone needs a basic medium wash boot cut, but some desire more. And once you've bonded with that favorite pair of jeans and worn it in, what is left for you to do? Meet your local denim experts: Cheryl Little (owner of Black & Blue), Paige McManus (owner of Denim Affair), and Christy Ward (manager of Black & Blue). Here are some tips on styling, accessorizing, and recycling your denim:
Which length for which occasion?
Looking for a jean that works with a variety of shoes? "A lot of our customers wear an ankle jean. They're very versatile with flats or boots," says Ward. Don't be afraid to wear a shorter length at night. "A dark capri, cute blouse, and heels takes you anywhere in this town at night," says McManus. Don't own a pair of capris? Try "cuffing a straight leg" jean, recommends Little. If you are in search of a versatile capri, try the "Lotus" jean by Red Engine (www.redenginejeans.com).
Which shade for which outfit?
"Dark denim works best for night," says McManus, who also sells a light dressy jean. "We sell a lot of darker denim and you can dress it up or down," says Ward. The experts agree: gray jeans are an up-and-coming trend, and McManus notes that they are often paired "with neon-colored tops." For a great pair of gray jeans, try "Nikki Dolphin Wash" jeans by David Kahn (www.davidkahnjeanswear.com).
Destroyed denim and embellished pockets: yes or no?
This season, destroyed denim is a yes. "It is hot this fall," says Little. McManus agrees "that shredded look is in." On jeans with embellished pockets, look for a design that "comes to the inside of the jean so you look narrower," says McManus. A great example is the "Bella Donna" jean by Fidelity (www.fidelitydenim.com).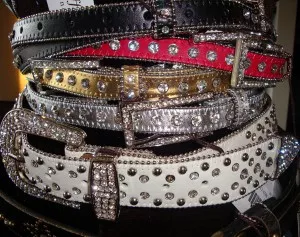 Belts: when to accessorize?
"Skinny belts are in," says Ward, who appreciates the versatility of belts. "Red is the new black," McManus says of belt colors. "A good fitting pair of jeans, white T-shirt, and rhinestone belt will take you anywhere."
When should you ditch your favorite pair of jeans?
Everyone has that favorite pair of jeans, but when is it time to let go? "When they lose their form and shape," says Little, and when they "don't flatter or accentuate," says McManus.
If you're ditching your favorite pair, how will you recycle them?
If you just can't part with your favorite pair of jeans, you can send them away to therapy for a full recovery. Denim Therapy (www.denimtherapy.com) is a company that repairs denim by finding the perfect thread match, repairing torn areas, and making jeans good-as-new. If you'd rather give your denim a new purpose, try cutting it into squares for pot holders or sewing squares together to make a homemade quilt.
Has reading about denim made you crave a new pair? Have no fear, denimpulse purchases are always welcome at Black and Blue and Denim Affair. "There's always an occasion to buy a new pair of jeans," says Little.
Black & Blue
Morrison Shopping Center
720 Governor Morrison Street Suite E-180
www.shopblackandblue.com
Denim Affair
Blakeney Shopping Center
www.denimaffaironline.com