In such a time of economic unrest, with adverts claiming that they'll buy your old gold jewelry, it's amazing that someone could even thrive in the art of goldsmithing. Katie Stein would like to prove all of the skeptics wrong. She has chosen the life of a goldsmith, an artist, a designer … certainly three occupations that no one would flock to for the chance to receive a hefty paycheck, but she couldn't imagine doing anything else.
And quite frankly, we should be glad.
Stein's business,
Vaka Designs
, specializes in elegantly raw gold and gemstone jewelry that can be worn daily, with your favorite pair of jeans, or reserved for special occasions, like a wedding. "I love taking gold and putting it into the casual, artisan designs we have come to associate with silver," Stein shares. "Gold is a gorgeous material, warm and with an inner glow silver doesn't have. When we take gold and put it into the casual designs we've gotten used to seeing in silver, we have something really beautiful! Relaxed, but with a depth and warmth that silver can't provide."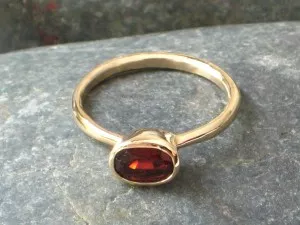 Stein is making sure that the over-processed, mass-produced trendy idea of gold jewelry is a thing of the past in her designs. She gives us a fresh approach even with the antique, aged look of her one-of-a-kind pieces. "I love jewelry that looks as if it's been dug out of the earth, like it's ancient and it's been part of someone's experiences and stood the test of time … pieces that look personal and individualistic and can become part of someone's story. Timeless." Her work has been said to appear as if they came right out of the Roman of Byzantine periods, or as one man said, her pieces are "elegant and rustic, refined and beautiful." No one could have hit the nail on the head any harder.
And she's not even charging an arm and a leg for her jewelry, which is especially hard to fathom with the materials she employs. Stein likes to keep her pieces affordable, for the every woman, and nothing is going to change her mind. "I feel very strongly that beauty and quality should be affordable … As an artist, it's important to me to have beautiful things be accessible things."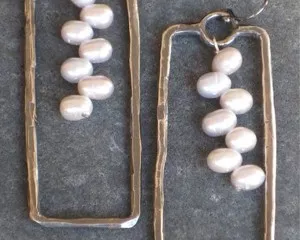 Stein admits to creating characters for most of the jewelry she designs. She ponders who each woman is … where they lived … what era … and what circumstances would have lead her to this piece? No matter what narrative Stein lays behind her work, the moment it is placed into someone else's hands, the story is completely rewritten, and that is what she wants more than anything. "I am fascinated by the deep connection people have with their jewelry. There is really nothing else we adorn ourselves with which becomes part of us in quite the same way. I love being part of that process; that what I create is first enjoyed because it's beautiful or bookmarks a moment or event, but then enjoyed because it's become an extension of who we are."
Many people are creating their own connections and stories with Stein's jewelry, including a few that she is exceptionally fond of. When a young couple from New Zealand didn't have enough for an engagement ring, they turned to Vaka Designs and began e-mailing Stein, who was touched by the incredible amount of adoration they had for each other. "I wanted to make sure they had a ring they would always treasure, not one they would look back and say, 'this was the best we could do at the time.' I just loved them, and wanted their ring to be more than they hoped for." That is what puts Stein above and beyond in her work. She genuinely places her heart and soul into each and every piece, as well as in customer relationships. She is not only making these pieces for herself, but for each of us as well. Which is why she is also very apt to custom jewelry pieces, like the ring a man gave his wife on the day she became a U.S. citizen. "What an honor, what a neat thing I got to do, and it made me rethink how I look at being an American."
It all comes back to the personal ties. Stein wants her jewelry to be ageless, something that is passed from generation to generation. "Some day a little girl will dig through her mother's jewelry box and find a ring I've made, put it on, feel like a princess and wait eagerly to be given the ring when she's older; or someday parents will explain to their kids why Mom's engagement ring is so special." There is always that classic, timeless sense in her work, even in her process. She admits to not being a trained bench jeweler, and knows that what she is doing has been done for thousands of years, so if she hits a tough spot, she knows that she can find a way around it. "Whenever I'm frustrated, I remember that what I'm attempting has doubtless been done before … so how did a Roman goldsmith, two thousand years ago, get this to work? And what swear work did he say when he hammered his fingers?"
You can see more of Stein's work at www.vakadesign.com.