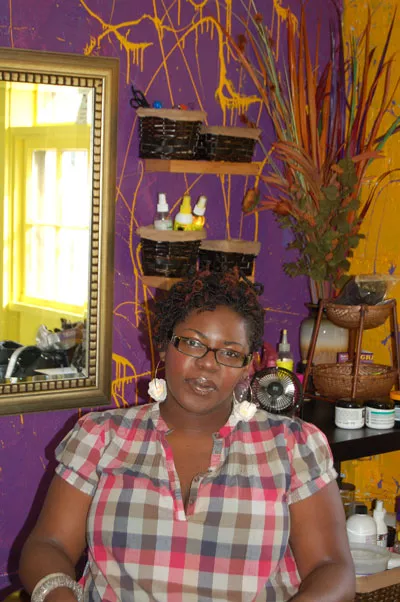 The days of ruling out those "hot summer looks" in the Cosmo magazine are over. There is a new makeup artist in town, and her name is Joy Randall. She believes it is simple: You just have to break through those self-made boxes, and embrace your "flawless" beauty.
Creative Loafing: So tell me about Flawless Makeup Art — what's the company mission?
Joy Randall: Flawless Makeup Art is a company that is about the service of makeup, and the artistry of makeup, versus promoting a product line. I've worked for MAC, I've worked for all the big name companies, that's nice, but I'm here to show the Southern region that makeup is more than just a specific product line; there are people out there who do this professionally. There is more to it than just lip gloss and cheeks. We do photo work — we do a whole lot of different things. So, it's not about you purchasing a product. It's about these artists who are here to give you the look that you want. That's the service we provide.
Who is your target market?
I target an urban market. I tend to think that most African-American women are most intimidated; they have the least selection of information out there. However, we can do any race; we are not limited to that.
You are launching a new membership package. Tell me more about that.
Because there isn't a clear understanding of what we do or a clear appreciation for it here in Charlotte, versus New York or California, this is a program that makes it more cost-effective for people who might not be an everyday makeup person. Instead of paying this $50 for a full-face, well you pay for the membership and you get it for $10 every time. You get brow-arching with it, you get seasonal consultations at $25 (normally $50 for the first hour), so you get plenty discounts on the services. And it makes people understand why they would need someone like me, because we provide it as a service, just like you get your hair done, just like you get your nails done, you can come get your makeup professionally done. In addition to that, we have a bunch of affiliates, people like Moazen Jewelry, YM Designs, and Eye/27 Photography who will offer different specials, as well. Although it's just getting started, I feel its potential is limitless.
What is one of the biggest misconceptions involving makeup?
That it takes 10 minutes. Makeup does not take 10 minutes. I'm not superwoman, nor do I create like that. Another misconception is "oh that color won't look good on me." There is no such thing. I do not believe in people not being able to wear certain things. I think everything can be worn by everybody; you just have to know how to use it for your skin tone. Basically, I think people have to break down their own confidence sometimes.
The Grand Opening is approaching (Aug. 2). Tell me more about that.
This is really a re-opening. I have been here since April. Now, we have the perfect trio here with hair, makeup and photography. We also want people to know where Area 15 is located. So, it's basically a meet-and-greet for people to see the space. It's a creative space; we love it. And we want people to come out and help us celebrate. There will also be specials the whole week after, so people can book their appointments that day.
The grand opening of the Flawless MakeUp Studio, located at 516 E. 15th Street, will go down this weekend, Aug. 2. Attendees will enjoy complimentary hors d'oeuvres and wine from 12 p.m.-6 p.m. while touring the studio. The space also houses YM Designs, a photography and graphic design studio and Loc'd Natural Hair Design, making the new studio a true "one-stop shop." Those interested in purchasing a membership will have the opportunity to complete an application during the grand opening festivities.
For complete details about the Flawless MakeUp Art Membership program or the RSVP for the grand opening celebration, call 704-975-9526 or e-mail [email protected]
[photo by Kate Robinson]