Velocity is "fashion for your sole," and owner Darryl Hines portrays the perfect example of that sole-ful style. He has been working steadfast to bring his urban sneaker boutique into an area of Charlotte that is in desperate need of independent retail presence. His University area store sits in the midst of chain stores and restaurants, standing out with its fresh, clean appearance and hip-hopping, wallet-dropping merchandise. You won't find clutter and old shoe boxes here — just bright colors, hot shoes and modern style.
Creative Loafing: Tell me a little about Velocity. What is its reason for being?
Darryl Hines: Velocity is a fashion-forward sneaker boutique. It differs from other sneaker and footwear boutiques by the simple fact that it is offering new styles, brands, colors, and patterns along with classic styles, brands colors and patterns. So if you come looking for something different or for something classic, this is the place you find it all under one roof.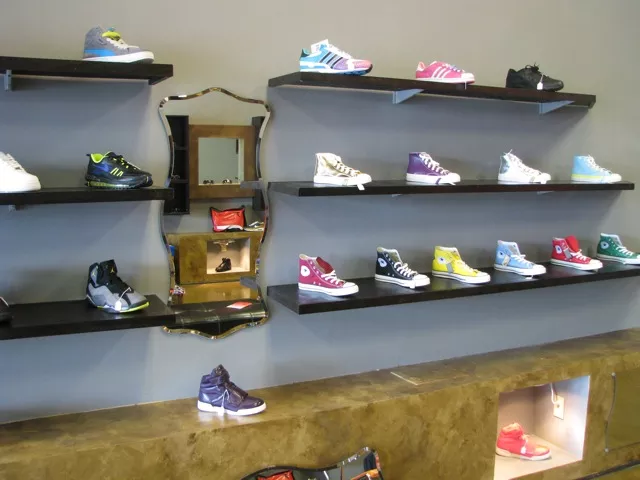 How did you get involved in the sneaker business?
It's actually a longer story. I've had an affection for shoes and sneakers for 14 or 15 years, actually probably younger than that. The sneaker business came when I began recognizing that there wasn't anyone targeting the mature urbanite, the person that maybe has a corporate day job but still likes to wear sneakers and casual apparel on evenings and weekends. Since there wasn't anyone offering unique sneakers to that particular market, that I consider myself to be apart of, I came up with the vision of Velocity to create an atmosphere and sales environment, with some very unique but stylish sneakers at an affordable price, and here we are.
What are some of your favorite products that Velocity offers?
We have a Reebok Ex-o-fit that is actually my favorite shoe right now. I'm not tied to any one brand, I like what I like, so, doesn't matter what brand it is, and price is really secondary, but I like the shoe because of the style and the color. I always incorporate the seasons, so a lighter shoe, a low-cut shoe for summer and spring; a darker, heavier shoe for fall and winter months. I'm not tied to any particular style; I'm recognizing that my clientele tend to be brand loyal, a lot of them are, but then many are not. I do try to educate my clientele to understand that Velocity is not going to be the next chain store. It is a very specialized store that you need to come into with a very open mind. If you come in with an open mind, it's very likely that you'll leave satisfied.
What are some of your most exclusive items?
We just got in the Poison Purple Reebok Ex-o-fit. The black is in chain stores but the purple is exclusive to Velocity. We have a couple other colors, again purple and another, Passion Pink, and those are top down shoes. We have Huarache Air Force Ones, too. The K-Swiss Gourmet is a pretty hot seller, and I'm the only one in Charlotte that has it.
Did you strategically pick the University area for Velocity?
I thought the University area was very diverse in every aspect, from the race, education, religion, and I thought if urban can't be identified in any one way, urban can mean a lot of different things, the University area was the best place to grasp a larger market, a very diverse market.
Did the fact that there aren't a lot of independently owned stores in the area influence your location decision?
It did. I had the choice of going to a mall, or a strip center, or even going Uptown, but there is a lot of retail presence in Uptown, so that made me reconsider that. And when you go to a mall, you find normal things, and I love being someplace where people expect to find something different. They expect a different type of shop, a different type of restaurant, a different type of retailer, because Velocity is a different type of store.
Velocity is located at 8925 JM Keynes Blvd., Suite 3. 704-549-8853. www.velocitystyle.com.