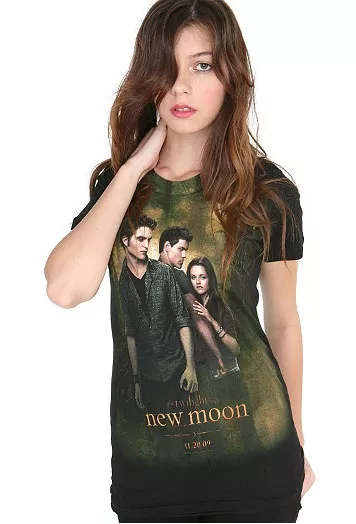 The sequel to the popular vampire flick Twilight isn't due out till November, but retail and accessory store Hot Topic is already getting hyped up. They've snapped up an exclusive deal to promote New Moon. And the T-shirt is only $22.
After cashing in on Twilight's success, Hot Topic has snapped up an exclusive deal for New Moon, the much awaited movie sequel to the star-crossed vampire romance.

And in good time too.

Priced at $22, the New Moon T-shirts might just be Hot Topic's trump card for the season, and it looks like the retailer is leaving nothing to chance when it comes to promoting them.

Ads for the T-shirts hold top spots on its website. The company has also been sending out promotional emails to leverage interest in the items, available months ahead of the movie's Nov. 20 release.
Read the full story on Reuters's Shop Talk blog.
If you're interested in purchasing a New Moon T-shirt, click here.
And by the way, if you haven't seen the new trailer, here ya go.