Editor's Note: Our beer writer is embarking on a self-imposed Charlotte brewery tour, visiting one a month. Here's his third report.
Last day of the month, and I'm right on time to NoDa Brewing. Well, make that two minutes early for its 4 p.m. opening. Tuesdays find NoDa tapping a different one-off beer each week, part of a series known as the NoDable. This week's offering, No Zest Needed, is a Belgian Pale that benefits from citrus notes courtesy of a well-chosen hop selection (Amarillo & Lemon Drop, a relatively new variety).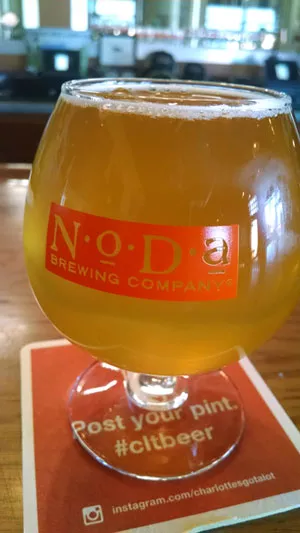 The NoDable is but one of 14 offerings on tap today; one of Lenny Boy's kombuchas makes a guest tap appearance as a non-alcoholic option. The taproom itself is curiously in the middle of NoDa's building, a necessary relic of bygone days, when city ordinance mandated they be situated 400 feet from any residence (the easement has since been reduced to 100 feet). This taproom doesn't occupy much space, which is unfortunate for the weekend warriors. Life just hasn't been the same for this hometown brewery since its Hop Drop 'n Roll IPA won a gold medal at 2014's World Beer Cup.
The dozen folks already at the bar have a great view of the brewhouse, thanks to a mostly-glass wall facing the brewing system. Brewers are hard at work with a brew right now, and odds are they'll be doing the same when you visit too. The bartender informs me they start brewing the first of up to four daily batches at 4 a.m., just to barely keep up with local demand. Their 15-barrel kettle and the employees that attend to it certainly put in work.
It's a beautiful day outside, and a large garage door to the right of the bar has been rolled up, allowing springtime to waft through a large screen door. That delicate citrus of today's NoDable pairs well with 70 degrees and sunny, but doesn't almost everything? A loading dock serves as a makeshift patio area, with a food truck parked a skip away. Truck offerings rotate. Today's option, OooWee BBQ, makes me sad I ate before I came here.
To further keep my wits and ensure I make it to my evening plans, I'm opting for lower-ABV offerings. NoDa has me covered: Sucette à l'abricot, a 3.8 percent Belgian Table ale brewed with apricots. Fruit greets you immediately before decrescendoing into a delicate prickly finish, and I'm not psychic but I forsee this glass getting finished quickly despite my best intentions.
Birdsong Brewing is a nearby neighbor, but not as close as it once was; last weekend, they opened in a new facility just a mile south. NoDa, too, is moving later this year; a larger production facility will hopefully give them some breathing room. This taproom will stay open, however, becoming dedicated to larger one-off and barrel-aged offerings. No date has yet been set for that project's completion.
A stacked pallet of freshly canned Jam Session makes its way past my vantage point, and I'm grateful to be drinking the fruits of their labors instead of schlepping them. It's not unusual for me to find NoDa cans at local bottle shops that carry that very day's date on the bottom, nor is it unusual for those case stacks to not last too long at the shop. Freshness is clearly the word of the day, and NoDa is committed to it.
I make my escape as the after-work crowd starts rolling into the taproom. Walking past the wall-mounted beer menu, I note that next week's NoDable will be a Scotch-style ale. I set a mental reminder to be back in seven days, if not sooner. It's hard to stay away from this quaint little neighborhood taproom.
After typing up my visit notes back at home, it becomes time to determine which area brewery I'll visit next. A quick shuffle of a hat full of paper slips, and … it looks like I'll be traveling north. Time to pay a visit to Cornelius-based D9 Brewing. See you later in April, folks.