We've all suffered through — or, for the masochists, enjoyed — a few mandatory years of mathematics classes. There is always that one teacher who drops cheesy math jokes on the regular in hopes of infusing a little flavor into the dry daily equations. "Gee, I'm a tree" and "Because 7 8 9" are true classics, but did you know that 3.14% of all sailors are Pi-rates?
Saturday, March 14, or 3.14, is a day dedicated to celebrating π, "Pi." Pi is an irrational mathematical constant with an unending decimal taught to most gradeschoolers using the adage "Pies are square, not round." This year also makes the date include the first five numbers of the unending sequence. To help with the festivities, we've put together a list of local home-grown bakers to fuel some beautiful minds at work.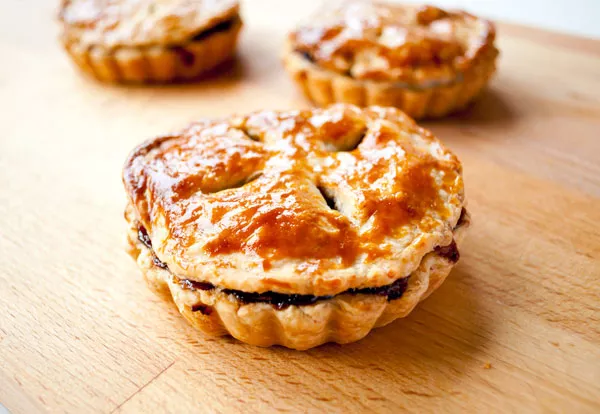 • Seeing how we're a proud city of the South, visit The Charlotte Pie Authority for a sweet taste of some old fashioned Southern style mini-pies. They offer buttermilk, crumb, truffle and their most popular, chess styles. (We wouldn't recommend using their pies in lieu of a board for your pawns.) (Mecklenburg County Market: Saturday, 10 a.m. to 1 p.m.; 7th Street Public Market: weekdays, 10 a.m. to 6 p.m., Saturday, 8:30 a.m. to 6 p.m., Sunday, 10 a.m. to 3 p.m.)
• If you like your pie as Ke$ha likes her toothpaste, Sweet Life Bakeshoppe has a Butterscotch Bourbon Chess Pie with your name on it. This pie contains bourbon and butterscotch schnapps to help enhance your math skills on this fateful day. If liquor isn't to your taste, this shoppe offers a smorgasbord of pies to the √(3000). (1816 Galleria Blvd. Weekdays, 10 a.m. to 7 p.m., Saturday, 10 a.m. to 6 p.m.)
• Even without a passport you can experience a bit of Schwarzenegger's homeland with Angelika's Fine Swiss Bakery's Linzer Torte. These tortes are a sweet blend of strawberry and raspberry jams covered with latticed dough. Even though pies are round, this rich treat will have you accept that heart shapes are just as delicious. (Mecklenburg County Market: Wednesday, 7 a.m. to 6 p.m., Thursday and Friday, 11 a.m. to 6 p.m., Saturday. 7 a.m. to 1 p.m.)
• For an even bigger adventure, check out the assortment of flavors from The Naked Tart. Handmade vegan tarts with complex flavor combos mixing chocolate, chile, cherry, lemon and lime just to name a few. With so many variables, finding the perfect equation for your taste buds may take some time, but the solution will be ever so satisfying. (Rhino Market & Deli, Healthy Home Market, and more.)
• When sweets won't do the trick, turn to Beverly's Gourmet Foods for vegetarian-friendly hearty pies and quiches filled with fresh tomatoes, basil, asparagus, goat cheese and more. Even the pickiest plant eaters will enjoy munching these baked goods as they toil using the foil method. (Mecklenburg County Market: Wednesday, 7 a.m. to 6 p.m., Thursday and Friday, 11 a.m. to 6 p.m., Saturday, 7 a.m. to 1 p.m.)
---
Editor's Note:
We decided to celebrate Pi Day a little early, so we reached out to freelance writer Keia Mastrianni, who's recently started her own little pie-making gig. Here's a photo of the Buttermilk Pie she made for us, which we devoured for breakfast. Sorry, we're not sharing. Hit her up on
Instagram
or
Twitter
to get your own.