As a girl who would rather drink a vodka-infused cocktail than a thick stout, the idea of hundreds of beer guzzlers huddled in a sports arena brings me back to my semester in Ireland, where I snubbed Guinness and tolerated Bulmers cider.
Kicking off another year of #cltbeer, almost 1,000 beer enthusiasts and hops newbies will unite for the fourth annual Queen City Brewers Festival at the Bojangles' Coliseum Jan. 31.
With an abundance of local specialty brews at your fingertips, a beer festival can quickly — for folks like me, at least — become a confusing frenzy of novelty ales versus high gravity porters. So we turned to some experts to share insight for drinkers eager to partake in the first beer fest of the year.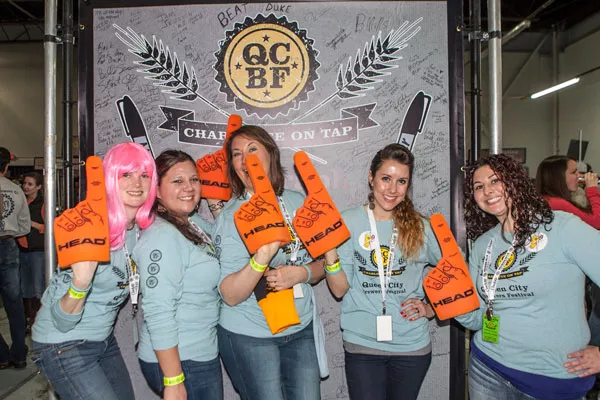 Courtesy Nils Weldy
Queen City Brewers Fest 2014
According to Nils Weldy, the mastermind behind the philanthropic festival for ACEing Autism, high gravity beers like double IPAs and imperial stouts are the most sought after at many craft brew festivals. But don't start there.
"I would recommend your lighter varieties, like session ales, lagers or pale ales, and then work your way up to the beers that are going to be higher gravity with more intense flavor profiles," Weldy says.
As you tip back your first taste of whichever beer you choose, consider "the flavor and how it hits your palate, the mouth feel and how it's carbonated, and of course how it finishes," Weldy says. "Is it a heady beer? Is it a resonating, coating beer?"
And how about, would you order a pint the next time you're at that brewery?
First-time QCBF participant Chris Bayne, head brewer at Bayne Brewing Company in Cornelius, suggests attendees "pace themselves and take their time tasting because it catches up fast. After 17 or so breweries, that could put you in a tough spot."
Matthew Gusmer of Windy Hill Orchard and Cider Mill in York, South Carolina, chuckled as he considered his offering of advice for turning up at the festival. He first goes for an oldie but goody: Drink plenty of water ahead of time and eat.
He also talks logistics. "First, I would recommend going to websites and downloading the lists of breweries there and brews that might be available and make a game plan," Gusmer says. "Second, do the VIP hour. It's worth the money to get in early and avoid crowds and lines."
Even if you do have to stand in line, it's worth the wait.
"At QCBF," Weldy says, "what's interesting and fun is that if you haven't had a flagship beer from NoDa, Birdsong or Triple C, then those are also going to be available at the event. It's a way to get reacquainted with some old favorites."
Also on your tasting agenda should be each brewery's "super brew," coyly named in honor of Super Bowl XLIX. These brews are one-time concoctions created for the festival and will be vying for the title of the first ever QCBF People's Choice brew.
"I have found that there are certain beers, like the super brews, that are meant for festivals," Weldy says, "because I could not imagine drinking a full pint of something that's got a crazy amount of habanero peppers in it."
Me either.