With the recent departure of Cantina 1511 from its old post, there's a new Mexi-Cali restaurant that seems to be taking over East Boulevard. Bakersfield is an odd mix of Johnny Cash, margaritas and Alamo-era western movies. All that's missing are sombreros and an upstairs brothel.
Perhaps Friday night was the wrong time to try to find a seat at the bar, but once finally positioned, it's best to know whether you would like to start the night with a single margarita or the whole pitcher (hey, I'm not here to judge). What seems to set these libations apart from the rest is their use of real lime juice and agave, instead of sour mix and sugar. Even I, who swears against anything tequila, enjoyed the sweet and salty elixir.
Before getting too caught up in my new enjoyment of margaritas, I moved along to the "red headed stranger," which I thought was akin to the red headed slut shooter, but I was way off the mark. It's a bourbon and cayenne pepper drink, garnished with candied ginger, a treat for the experienced craft-cocktail drinker. If you decide to play it safe with a local craft beer, it's served in a cowboy boot-shaped mug, which is kitsch but cool, I guess, if that's your thing.
Then, of course, there are the tacos. When the display of open-faced tortillas appeared, one of the many rotating bartenders recommended to eat the Pastor taco first, moving from the sweet to the spicier Short Rib, because taco-eating seems to be a science. And did I mention the tacos are only $3?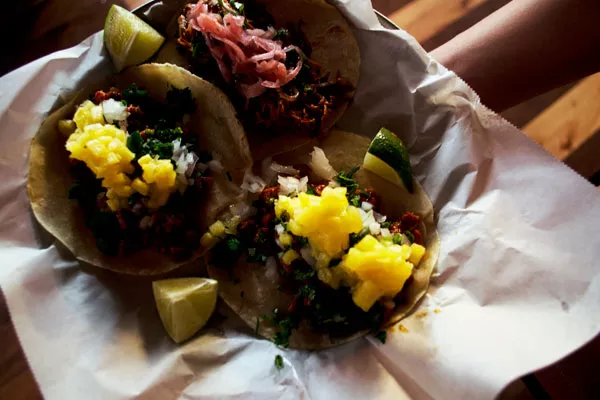 Pastor and Short Rib tacos
Later in the evening, the bay doors were opened to applause from the overly crowded room. That's the catch to a new restaurant — it's crowded.
Bakersfield (1301 East Blvd.) doesn't open until 4 p.m., so if you're in need of that post-work drink, you can get your fill of tequila here.