Each week, The Social Eater picks a handful of filter-friendly, tweetable, social media-shareable foodie events in and around the city. No #struggleplates allowed.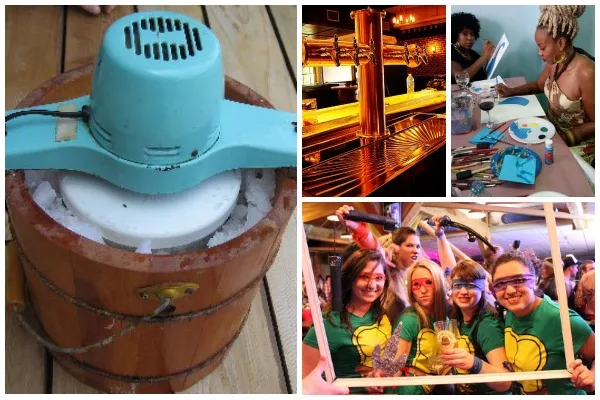 • How much do you contemplate the food on your plate? Thinktank and social entreprenuer hub Queen City Forward is hosting Innovation Challenge: Food Stakeholder Meeting — a series of community conversations to hash out on hash browns, ruminate on rutabagas, discuss daikon… you get the picture. Talk about food access, healthy choices and the further development of our ecosystem with major players and game changers in our midst. #musedbouche
Free (RSVP here)
Aug. 12. 6-7:30 p.m.
Packard Place, 222 S. Church St.
• New social spot Sydney's Martini and Wine Bar has become a reliable source for good live music and a relaxing atmosphere. Aside from nightly performances this week, author S.D. McCall will be present to sell and sign copies of her new book, The Day I Said Yes... for this week's Wordz & Wine event. Enter for giveaways and be sure to ask the bartender for the "The Yes" pineapple upside-down martini. #sayword
Free (books available for $10 purchase)
Aug. 12. 5 p.m.-8 p.m.
Sydney's Martini & Wine Bar, 401 N. Tryon St. Suite 104.
Visit its Facebook page for updates on nightly music performances
• Charlotte's oldest and largest microbrewery (does that make it a macrobrewery?) is moving to bigger and better digs. Celebrate Olde Mecklenburg Brewery's grand reopening with an all-day bash including on-the-hour tours, tastings, specials and live music from Plainclothes Operation and bluegrass band The Neighbors. If you just can't get enough, swing by the old spot for the bon voyage bash on Tuesday with live music and free yoga. #grandopeninggrandclosing
Free
Goodbye: Aug. 12, 6:30 p.m.-7:30 p.m.
Old Olde Mecklenburg Brewery, 215 Southside Drive
Hello: Aug. 15, 11 a.m. - 11 p.m.
Olde Mecklenburg Brewery, 4150 Yancey Road
• You've either seen or been to a "paint & sip" before. You bring your friends and a couple bottles, then leave with identical copies of the same whimsical picture. Artist Cathay Dawkins stepped the game up with his mobile artery — he provides the dips and sips and shows you how to create a truly unique work of your own from scratch. If you don't think you have an artistic bone in your body, find it at Canvas & Curls, a celebration of natural beauty and talent. #thewinedown
$35. Advance tickets here.
Aug. 16. 5 p.m.-7 p.m.
Revolution EGO, 312 N. Myers St. #115
• This weekend's South End Ice Cream Churn-Tacular is touted as "the homemade ice-cream tasting event of the summer," which raises the question: Have there been others? Where have I been? Organizers are still accepting challengers (until Thursday) so if you've got a churn, bring your A-game and some arm strength to go head to head against Chef Alyssa's Kitchen, Savory Spice Shop and more. They'll supply the salt and tasting cups. #saltshaker
Free
Aug. 16. 11 a.m.-1 p.m.
Atherton Market, 2104 South Blvd.
For more info or registration to compete, visit here.
• When I was a kid, I swore I was going to grow up, move to New York and hang out with the Ghostbusters and Ninja Turtles (since they'd all have crushes on me, obvs.) Bill Murray hangs around enough that it might still be a partial possibility but the Turtle Crawl might be the closest I get to the rest of the dream coming true. Dress up like your favorite *turtle crime fighting character* (I dunno if Franklin counts but let's try it!) and creep the Uptown streets tipping glass and taking names. Turtle gear is mandatory, so bring your bandanas. #threesheetshalfshells
$15 (Advance tickets here)
Aug. 16, 7 p.m. - 2 a.m.
Fitzgerald's Irish Pub, 201 E. 5th St.
For more info call Hunter (704-516-2674)
Check out Dani's wanderings, foodie and otherwise, at kinkythought.com. Got a line on some foodie happenings? Tweet her up @kinkythought.