Long gone are the days where hot dogs consist of only ketchup and mustard. What started as a special tradition has now become a favorite food for leisure eating at lunch, dinner or both. Hot dog connoisseurs all over Charlotte have created some of the most unique — yet strange — combinations of food to throw on top of this wiener-bun combo. From macaroni and cheese to cucumbers and onion rings, you can find the Q.C. loading just about anything on a hot dog.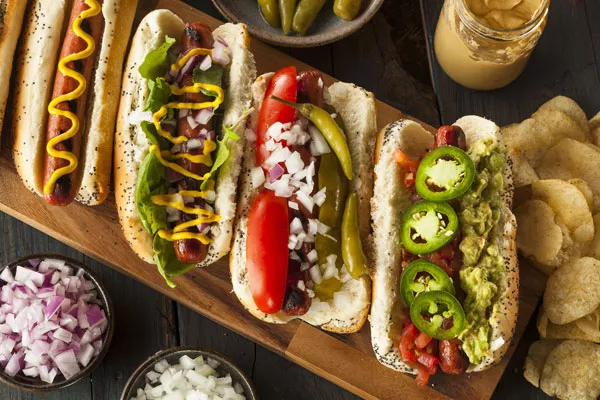 To help you start the celebration of National Hot Dog Day and live a little on the wild side, I've picked out a few places famous for their specialty hot dogs that I think you should try.
Green's Lunch
Right in the middle of traditional and specialty lies the hot dogs made at Green's Lunch. Whether you're from up north and enjoy the taste of pickled relish and sauerkraut or down south with cole slaw and onions, Green's Lunch is sure to have something to your liking.
309 W 4th St.
704-332-1786
JJ's Red Hots
One of the most popular hot dog spots in Charlotte, JJ's has just about any type of hot dog you can think of. What are some examples, you may ask? Well, let's just start with sweet potato hash, peanut butter and scrambled egg— just to name a few.
1514 East Blvd.
980-225-8880
Matt's Chicago Dog
Bringing Genuine Vienna Beef- Chicago Style hot dogs right here to Charlotte, Matt's Chicago Dog has a whole list of things for you to decorate your hot dog with.
435 S. Tryon St., Suite 140
704-333-3650
Chili Man food truck
Out and about and want to join in the hot dog fun? Stop by this food truck and let Vic the Chili Man give you the best there is in street food and hot dogs.
South Tryon and 4th streets
704-806-9941
For you vegetarians out there, ask any of these restaurants what options they have for veggie hot dogs. While I think there's no fun in a hot dog if there's no pig in it, I'm sure these are pretty tasty too, if not interesting. But hey, who am I to judge?
If none of the above strikes your interest and you're not much of a risk taker, Sonic Drive- In and most 7- Eleven convenience stores are offering one-dollar hot dogs. Go forth and let the dogs out.