Found: e2 emeril's eatery (135 Levine Avenue of the Arts #100)
Ingredients: Southern Comfort pepper, Aperol, lime juice, simple syrup and Cajun spice for the rim (chili powder, sugar, salt, cayenne pepper).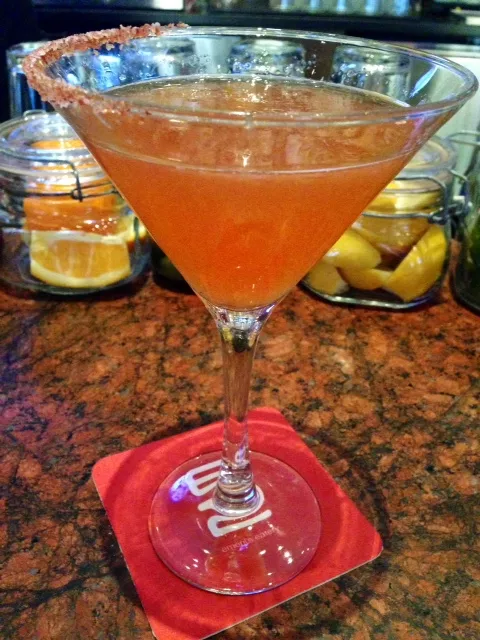 There's always an occasion for a drink or, in this case, a drink for the occasion. Mardi Gras, often dubbed "the biggest party in the world," would be one of them. Fortunately, New Orleans knows how to make a drink, and here in Charlotte, you can get a taste for the Cajun culture at e2 emeril's eatery. The New Orleans inspired restaurant is celebrating its knack for spirituous drinks with Southern Hospitality, a take on the classic whiskey sour.
Kevin Harris, bar manager of e2 said his inspiration for the drink was simple. "Mardi Gras is based in New Orleans so the Southern Comfort was a good tie-in. It was invented in New Orleans back in the 1800s. I used the pepper because of the Cajun influence down there ... but I didn't make it too hot, just a little bit of spice to go with the theme." The drink has a slight kick, but it's packed with hints of fruit, so you'll get a delightful swig of sweet and spice. If you like a bit of heat, opt to sip from the half of the rim that's garnished. Harris says he uses a basic formula for making cocktails, which includes a base spirit, modifiers and then elements like sweet, sour and bitter. That formula he uses, let's just say it's working.
Available starting Feb. 27 and will be offered on the spring cocktail list.