It's a Saturday morning and I'm walking down the street with my sunglass-covered eyes to the ground. My clothes are wrinkled from wearing them the night before, and there are mysterious remnants (shadows of a recent experience, perhaps?) traced along my lips. Despite these characteristics, a satisfied smirk, basking in the glory of indulgence, begins to break across my face...
This is anything but the typical "walk of shame."

In fact, I happen to be coming from a feast at a donut shop. The Donut King, which opened in late 2012 in Huntersville, is the hotspot from which I'm traveling. There, the bakers, headed by owners Lyle Sarnevitz and his daughter Emily, are confectionary Casanova's who consistently woo customers with their decadent and quirky original creations baked fresh every night.
The attraction of their handiwork is so powerful that the shop often finds itself selling out of product earlier than closing hours, one time running out by 8:30 a.m. on a Friday morning, Lyle Sarnevitz said. And while freshness is key to The Donut King's success, the shop's creative donuts are what really make it stand out.
"We let everyone be creative here; the bakers come up with stuff weekly," Sarnevitz said. He explained to me that this strive for innovation is what spawned donuts ranging from the shop's signature Maple Kevin Bacon donut (a traditional yeast donut topped with maple frosting and real bacon bits) to red velvet cake donuts with cream cheese frosting and cereal-treat inspired donuts for kids.
My visit centered, however, on the "King" himself - the shop's devilishly good donut simply dubbed "The Elvis." The Elvis was the reason for my walk of shame - a chocolate frosted yeast donut stuffed with creamy peanut butter and topped with banana chips and bacon bits, something about it seems morally wrong, yet it is so right. The creaminess of the peanut butter and the pillowy donut are given a wonderful contrast by the crunchy toppings, and the sweetness of the chocolate frosting sits in delightful balance alongside the rich peanut butter and the just-enough presence of salty, savory bacon. From first bite I was in heaven.
Overindulgent? Perhaps. But should you try it? Absolutely.
Sarnevitz insisted that I also sample the Maple Kevin Bacon, telling me that it was the donut that most often converted skeptical customers to try more of the shop's off-kilter creations. The advice was sound, too - it was easy to see how the tasty donut could so easily win over non-believers.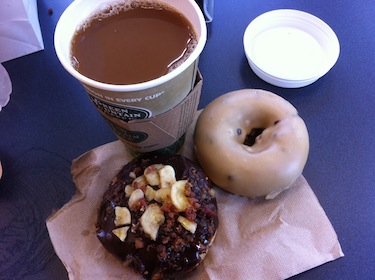 I also tried the shop's blueberry cake donut with maple frosting - a blissful reminder of blueberry pancakes (only better) - and the "snowflake," a vanilla frosted yeast donut topped with shaved coconut. Both were splendid.
"People that travel the country tasting donuts say they're the best donuts they've ever had," Sarnevitz proudly told me.

Taking my walk of shame after easily polishing off four donuts and a large coffee, I couldn't help but to find myself in agreement. Consider me a new vassal in the court of The Donut King.
The Donut King is located at 9905 Rose Commons Drive in Huntersville. For more information, contact the shop at 704-948-0430.