There is no lack of New Year's Eve parties in Charlotte willing to help you ring in the new year as you hand them $100+ for a cheap glass of champagne and entry into their "exclusive" party. But if I'm going to spend $100+, it's going to include a meal, and a good one at that. Lucky for us, there are a few restaurants in Charlotte doing it up big on New Year's Eve. Here are a few to choose from.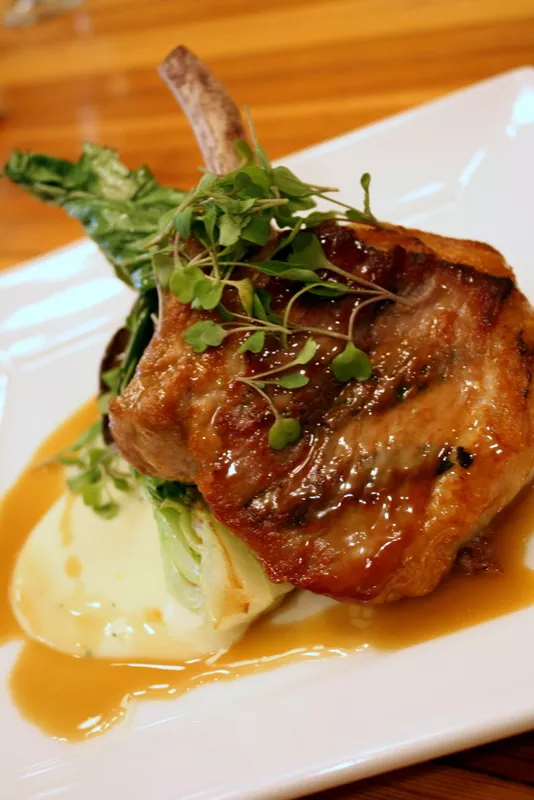 Grateful Growers Pork Saltimbocca with country ham, sage, and white wine pork demi

LOCAL DELICACIES AT HARVEST MOON GRILLE
Harvest Moon Grille will be offering a three course menu featuring some items you won't find on its everyday menu. For $65 a person, diners may choose among four different options for their appetizer and entree, and three different options for dessert. The cost of the meal also includes a glass of champagne.
Entrée choices include:
- NC Grass Fed RIbeye Roulade, Roasted NC Oyster Mushrooms, Parsley Demi
- NC Striped Bass Medallion Fried NC oysters, Spicy Tomato Olive
Cream
- Grateful Growers Pork Saltimbocca, Country Ham, Sage, White Wine Pork Demi
- Ricotta Gnocchi, Grilled and Roasted Veggies
Chef Patty and Chef Cassie put their heads together to develop this menu, and their pick for favorite entrée is the Grateful Growers Pork Saltimbocca (pictured above). The pork comes straight from a heritage breed of pig from Chef Cassie's farm, Grateful Growers. Pork Saltimbocca is a traditional Italian dish, which translates to "jumps in mouth." The dish is typically served with prosciutto, but Harvest Moon Grille gives the dish a Southern twist and serves the pork with country ham that has been aged an entire year.
Reservations can be made by calling 704-342-1193 or through Open Table. Harvest Moon Grille is located at 235 N. Tryon St.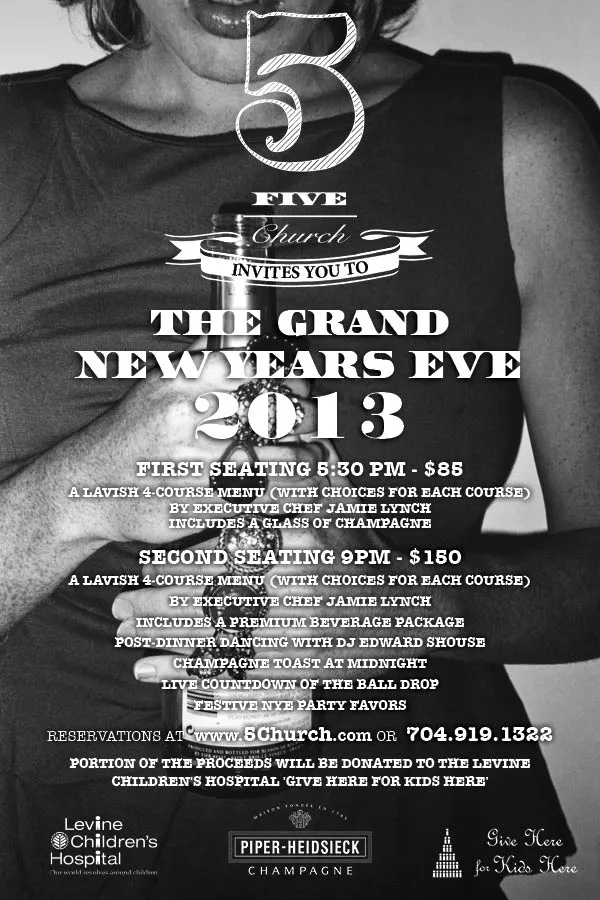 5 Church
New Years Eve at 5 Church

DINNER AND DANCING AT 5CHURCH
For the Grand New Year's Eve at 5Church in Uptown, dinner guests may choose from two different dining options:
- A first seating for $85, including a four-course menu and a glass of champagne beginning at 5:15 p.m. and ending at 9 p.m.
- Or a second seating for $150, which includes a four-course meal, premium beverage package, after-dinner dancing and a champagne toast at midnight, beginning at 9:15 p.m. Formal attire is required for the second seating option.
A portion of the proceeds will be donated to the Levine Children's Hospital 'Give Here for Kids Here.'
Menus for both seatings include choices for every course. Entrée choices include:
Grilled C.A.B. Tenderloin, Crispy Potato Cake, Creamy Dijon Leeks, Bone Marrow, Cabernet Reduction
Or
Red Curry Braised Lamb Shank, Coconut Charleston Gold Rice, Grilled Scallions, Gremolata
Or
Duck Fat Poached Halibut, Sauteed Spinach, White Bean Tahini Puree, Lemon Marmalade
Reservations for first seating at www.5Church.com;
reservations for second seating can be made by calling 704-919-1322. 5Church is located at 127 N. Tryon St., Suite 8, on the corner of 5th Street and Church Street.

EXTENDED CELEBRATION AT UPSTREAM
Upstream will be featuring a special New Years Celebration menu through Jan. 1 for $75 per person. Diners may choose between three appetizers, four entrées and two desserts. Dishes may also be purchased a la carte.
Entrée choices include:
- Filet of Ribeye Steak with Ginger Scented Butter Poached Lobster Tail, Celery Root Gratin, Glazed Baby Carrots, Pinot Noir Reduction
- Porcini Crusted Striped Bass, Golden Chanterelle Mushrooms, Duck Confit, Local Mustard Greens, Rosemary Jus
- Seared Margret Duck Breast, Foi Gras with Parsnip Puree, Spiced Roasted Pear Sauce
- Jumbo Prawns with Thai Fisherman's Stew, Lemongrass, Kaffir Lime, Wok Vegetables, Jasmine Rice
Reservations can be made by calling 704-556-7730 or through Open Table. Upstream is located at 6902 Phillips Place.