Beth Robb lives a pretty sweet life. She coaches running groups. She makes adult beverages behind the bar at Soul Gastrolounge once a week. And she makes spectacular desserts.
This life, the one where she gets to do what she loves, is far from the corporate grind she used to live. Although, if you want to know where she got her inspiration for raw, vegan, gluten-free desserts, ask her to recall the days of corporate board rooms filled with heavily-processed snacks and refined sugars.
"Eating that kind of highly processed food affects people's moods," says Robb. "Not to mention the sugar crash which would have people falling asleep at their desks."
Beth, or Sweet B, as she is called by her bartending buddies after the character Sweet D from It's Always Sunny in Philadelphia, began making her own desserts using whole ingredients and unrefined sweeteners like dates, agave and honey.
Inspired by her own vegan lifestyle and experiences, she began experimenting with things like cashew cream and avocado icing. Pretty soon, her desserts were the talk of all her friends; with their encouragement, she launched Sweet B Unrefined this past summer.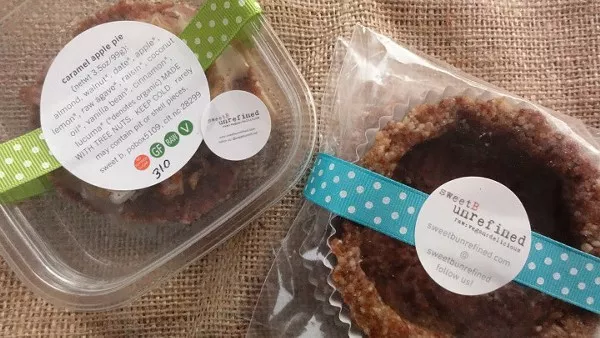 Robb prepares her vegan and raw desserts inside the kitchen at Central Coffee and sells her confections around town. At Central Coffee, the espresso bites are a big hit, as was told to me by a regular who stopped by to chat during our meeting. Sweet B also sells at local retailers Eco-Licious and NoDa Bodega and even works with local food delivery services Nourish and modPALEO to provide weekly treats for their customers.
Sweet B focuses on using high-quality unrefined ingredients for inventive desserts that, as Robb says, mimic "real life" desserts, like her raw cookie dough bites. Each week, there are special desserts like raw carrot cake, caramel apple pie and cashew iced brownies, to name a few.
Most recently, Robb began making sweetcrust pastry, pre-made pastry shells made of walnuts, dates, almonds, cinnamon and coconut oil for customers to fill with their own sweet concoctions. Of course, they come packaged like her other products, wrapped in colorful polka-dotted ribbon with Sweet B's tagline "raw, vegan, delicious."
Robb left her corporate job to work on Sweet B Unrefined full-time which, she admits, is a pretty sweet gig. "I can't imagine doing anything else.."
Keia Mastrianni-McGrath loves to tell stories about local food products and the people behind them. When she's not scouting out local discoveries, she's steadily working in her vegetable garden, spending time in the kitchen and nosing through cookbooks. She maintains a happy food blog called The Sunnysideup where she shares recipes and her culinary adventures.