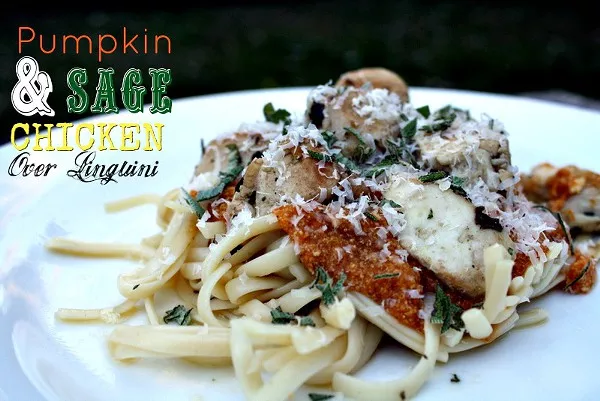 Pumpkin & Sage Chicken over Linguini
Pasta is one of those quick and easy comfortable favorites that most people love. But I myself get tired of the typical spaghetti and meatballs and lasagna. I want something different. I want something delicious. Most importantly, I want something easy.
Linguini with Pumpkin Parmesan Sauce
And now, I have just the thing.
Pasta with Chicken and Pumpkin Sauce

PUMPKIN & SAGE CHICKEN OVER LINGUINI (serves 4)
This quick and easy pasta dish is perfect for fall because it contains none other than the season's most popular ingredient: pumpkin. But the best part is that it's restaurant quality yummy while coming together in 30 minutes or less.
2 Tablespoons salted butter
1/2 cup fresh sage leaves, chopped finely
1/4 teaspoon sea salt
1/4 teaspoon pepper
1 pound chicken, cut into bite size pieces
8 oz. linguini
1/4 cup parmesan regiano

Melt butter by heating it in a pan on medium heat. Once butter has completely melted, add 1/4 cup sage leaves, stirring to mix thoroughly with butter. Allow to cook for two minutes. Add chicken to the pan and stir to thoroughly coat with butter and sage. Cook chicken until the pieces are no longer pink in their center.
Fill a large pot full of water, salt well, cover with a lid, and bring to a boil. Add linguini and cook according to package directions.
Plate 1/4 of the pasta and top with 1/4 of the sauce (recipe follows) on each plate. Then, top with 1/4 of the chicken sprinkling 1 tablespoon of parmesan region, then 1 tablespoon of chopped sage leaves. Serve immediately.
PUMPKIN SAUCE:
1/2 cup canned pumpkin
1/2 cup plain Greek yogurt
1/2 cup skim milk
1/2 teaspoon sea salt
1/2 teaspoon cinnamon
1/4 teaspoon nutmeg
1/4 cup parmesan reggiano, grated finely
In a medium sized pot, add pumpkin, yogurt and milk. Stir well and turn heat to medium. Continue stirring until sauce starts to bubble. Reduce heat to low and add spices. Add cheese last and stir well to combine.
Kelly Davis is a blogger, freelance writer, food enthusiast, and native North Carolinian. When she's not training for a race or cooking something delicious in the kitchen, she's writing, reading, snuggling her dachshund, or plotting her next project. You can keep up with Kelly's antics and recipes on her blog, Foodie Fresh.