If there's one thing en vogue right now in Charlotte, it's craft breweries. But breweries aren't the only place you can get a good local, regional or national brew. Bottle shops are a good alternative, especially if you want a wide variety of craft beer choices poured and sold from someone who knows good beer — the kind of person who can help you find a new favorite or can teach you something new about the beer you've been drinking for years.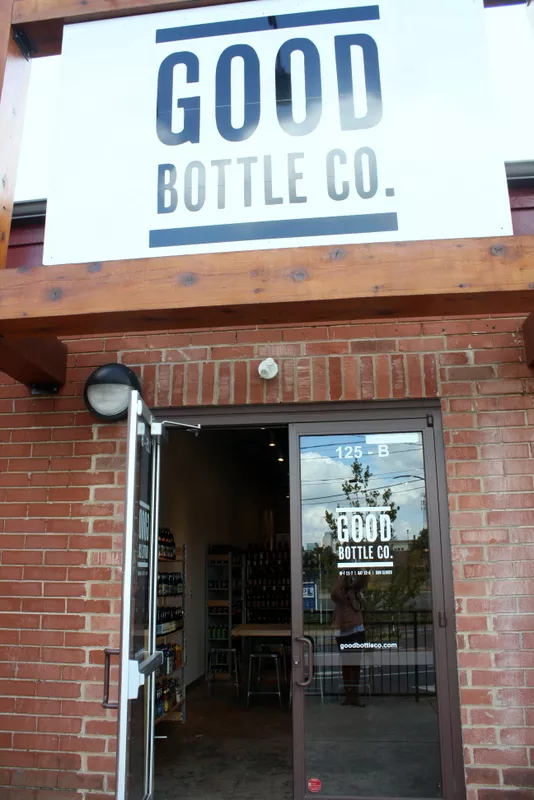 Good Bottle Company in South End
Chris Hunt, owner of the new Good Bottle in South End, remembers when he first started to get acquainted with craft beer. As the local beer scene grew in his hometown of Asheville, learning about craft beer became more than just a hobby for Hunt. He researched bottle shops in Asheville as well as in Georgia, where these retail spots are prolific. Years of learning, dreaming, and planning finally came to fruition on Friday, Oct. 12, when Good Bottle finally opened.
The sleek and minimalist shop strives to be a place to sit for a bit with a craft brew or mix and match your own six-pack to take home.
"We have had people come back three or four times this week," Hunt says. "They'll have a pint then grab a six pack and hit the road. The craft beer person isn't the person who comes out on Saturday night and pounds 10 beers; it's the person who comes out on Monday and has a beer with a friend."
Here are some need-to-know things about Good Bottle shop:
* They currently have and plan to keep all local beers on tap, except one, which could be from anywhere.
* The "Father In-Law" taps are an inside joke that Hunt will gladly let you in on. His father-in-law prefers light beers, so Hunt made sure that his FIL could always find a beer he likes. If light is your preference, stick to these taps.
* There will be a "Pumpkin Takeover" just in time for Halloween, where all taps will be pumpkin beers. More takeovers will happen based on style or region (the only time local won't be a focus).
* Good Bottle hosts free tastings on Thursday nights, which Hunt describes as being 75 percent about tasting the beer and 25 percent about getting to know the brewery and building a sense of community.
* Besides what's on tap, you can drink any of the bottles they have available. Hunt will even chill your bottle for easier sipping.
* The bottle shop doesn't sell food, but you can bring in food from any restaurant (may I suggest takeout at Macs?)
While chatting with Hunt about his new business venture, he offered me a beer and I just couldn't say no. I tried NoDa Brewing Company's new pumpkin ale, cleverly named Gordgeous. I'm picky about my pumpkin ales but the brown sugar and spices won me over.
Hunt says his favorite brew "is the beer I'm drinking right now." He wasn't drinking anything at the time I asked him, so he went on to explain that he chooses a beer based on what he wants at the moment. Right now, he's digging NoDa's Coco Loco and Big Bad Baptist from Epic Brewing.
For small batch brews like the Big Bad Baptist (love that name!), he limits the number his customers can purchase to two. "Otherwise someone will buy all of them and people won't get to try it."
Hunt tells it like it is. Opening Good Bottle shop was partially about having a profitable business. But his rationing of the good beer goes a long way in proving that it's not all about the money, but the opportunity to share his love for craft beer.
Good Bottle is located on the corner of South Boulevard and Remount Road at 125 Remount Rd.