As part of its two-year anniversary, Mellow Mushroom on Selwyn Avenue will introduce two new drinks to welcome Troy and Son's Moonshine to its beverage menu.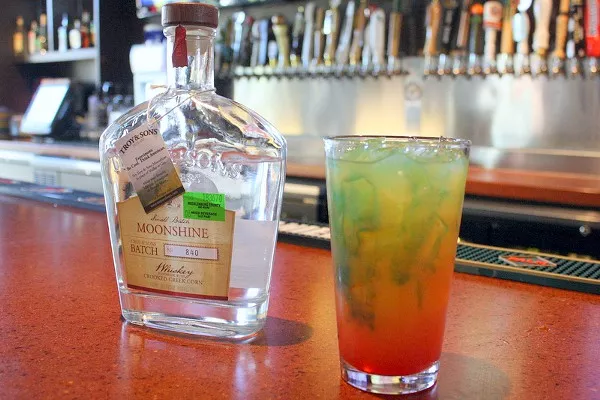 Reggae Moon — made with Troy and Son's Moonshine
Certainly, moonshine has come a long way from the choice booze of hillbillies and the humble origins of NASCAR to its presence on the menu of a family-friendly restaurant in a posh side of Charlotte.
Beginning today, Mellow Mushroom will debut Reggae Moon. The colorful concoction of orange juice, grenadine, and blue curacao is a tied dyed lovers dream. Another option is the Moon Shot, a fruity mix of moonshine, cranberry juice and watermelon schnapps.
Owner Marc Kieffer explains, "Craft beer has become so popular in Charlotte, so we thought [moonshine] would be a hit as well."
For those of you who have visited one of Mellow Mushrooms' other locations across the Southeast, the difference between these and the Selwyn Avenue location is obvious. The kids.
Visit any Friday night, and you'll see several children at every table. Enough kids that I first (wrongly) assumed the restaurant was feeding kids for free. Ironically, Mellow Mushroom didn't have a kids menu for 32 years after the flagship store opened its doors, according to Keiffer. But with the proximity of so many young families within walking distance, the restaurant that is typically thought of as a beer and pizza joint is one of the most happening spots in Charlotte for young families.
While other Mellow Mushrooms are located in more "hippy," college towns, this particular restaurant owes its popularity with a different crowd to its location, right in the heart of Myers Park. Kieffer recounts their first weekend of opening: "We had 50 strollers parked out front. It was like a stroller convention!"
But this family-run operation, which Kieffer co-owns with his wife LeAnne, strives to be popular with more than just families. "We try to do a good mix," he says. "We do trivia on Tuesday night and live music and beer events so we get more of an adult crowd those nights."
Besides the roll-out of two new moonshine mixed drinks, Mellow Mushroom will be celebrating its two-year anniversary with a party, open to the public on Saturday, Oct. 13, from 2 p.m.- 6 p.m. outside the restaurant.
The party will be both kid- and adult- friendly, featuring:
- Free slices of cheese and pepperoni pizza
- Beer tasting provided by Charlotte's own Triple C Brewing Company
- Mixed drink tasting (like Mojitos) provided by Troy and Son's Moonshine from Asheville
- Tie dye booth where customers can decorate their own T-shirts for $5
- Corn hole
- Long distance corn hole contest with Mellow Mushroom gift cards up for grabs
- Two Mellow Mushroom corn hole sets will be given away

If you can't make it to the party, there are more opportunities to reap the benefits the anniversary. Starting on today, Mellow Mushroom will feature daily specials at $2 to celebrate its two-year success.
Monday: $2 pints
Tuesday: 2 for 1 appetizers
Wednesday: $2 well drinks
Thursday: $2 pints
Friday: $2 desserts
Mellow Mushroom is located at 2820 Selwyn Ave., Suite 100.